CENS > Supplier Site > YOW CHERN CO., LTD.
Founded in 1990, Yow Chern Co., Ltd.'s focus has always been manufacturing all types of high-quality fasteners such as for construction, furniture, wood working etc. After gaining solid footholds in these markets, Yow Chern began to expand its manufacturing capabilities to become a qualified supplier for automotive fastener. Our trustworthy products are widely supported by the global customers in the EU, US, and Canada.
Corporate Philosophy
​
The company, backed by a well-trained team, strictly implements the IATF16949 quality system, Yow Chern's seasoned R&D team is the key to company's continued improvement and business growth.
Yow Chern produces 12,000 tons of products annually. Every of our employees continue to improve skills, expand horizons and look ahead in the future as part of the company's motto. Yow Chern is set to leverage its expert technical experience and develop a more diverse range of products with even higher caliber and quality to help global customers gain profitability and market share.
Established in 1991
Accepted orders from overseas customers in 1994
Awarded by ISO-9002 in 1998
Received Taiwan Patent 86207346 for Aster Screw in 1999
Received German DPUM Nr. 200_141_47.3 for Aster Screw in 2000
Received U.S.A Patent U.S 6,450,748 B1 for Aster Screw in 2002
Awarded Great Britain BSI QS-9000 in 2002
Received U.S.A Patent U.S 6,524,046 B2 for Wedge Anchor in 2003
Expanded business for automobile and special parts in 2004
Received European Patent 1180609 for Aster Screw in 2005
Received European Patent 1243801 for Wedge Anchor in 2005
Awarded by ISO / TS 16949 in 2006
Invested New Packing Warehouse in 2006
Invested Sorting facility in 2007
Accredited TAF Lab in 2007
Built new office and factory in 2009
Received European Patent 1972800 for Screw Anchor in 2010
Received Trademark certificated for ASTER® in 2010
Built "Wire drawing factory" in 2011
Received CE marking for EN 14566 and EN 14592 in 2012
Authorized new licenses of MAThread® & MATpoint® & Torx® & Trox Plus® in 2013
​Awarded by IATF 16949 in 2017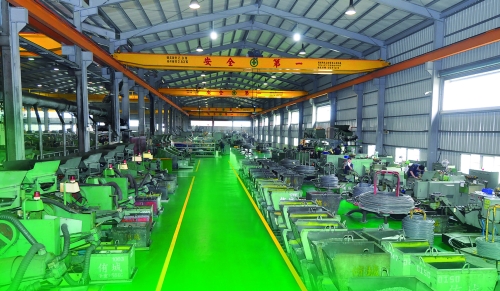 Corporate Philosophy
Screws, Aster Screw, Composite Deck Screw, Special Parts, Auto Mobile Oarts, Roffing Screw, Bi-metal Screw, Wedge Anchor, Screw Anchor, Window Screw
Business Type:
Manufacturer, Exporter
Company:
YOW CHERN CO., LTD.
Address:
No. 74-15, Chung-Lu Borough, Alien Dist., Kaohsiung City, Taiwan 822
Telephone:
886-7-631-1538
Send inquiry to this company
©1995-
2006
Copyright China Economic News Service All Rights Reserved.