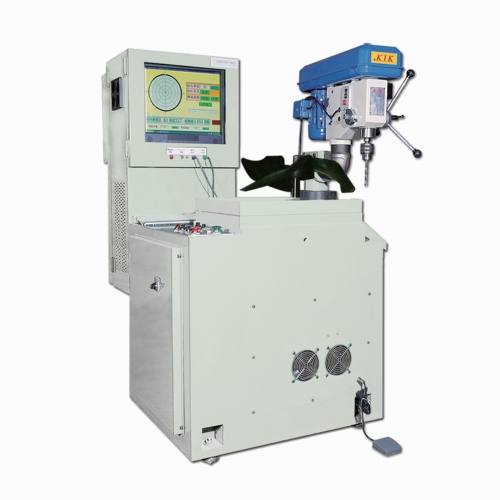 Digital Micro-computerized Vertical Balancing Machine
Model:

THM-311

Country of Origin:

Taiwan
Detail Specifications / Descriptions
Our balancer is specially-designed for dyamic balance detection and correction of wheels, fly wheels, gears,emery wheels, clutches, fan blades, ceiling fans,suction
fans,pump blades, and other rotating disk-type units. The value and angle of detected unbalances is clearly indicated on a vector scope, and corrections can be made quickly with a paired drilling machine.


Features:
1.Windows XP/Vista operating system.
2.Human/machine interface for easy balance-weight testing; balance weight unit will be set as "gram" after testing.
3.Monitor displays all sorts of settings and digitalized imbalance angles, weight , rotation speeds, and synchronous vector charts.
4.Automatic digitalized zero adjustment.
5.Automatically turns the imbalance angles to any present location.
6.200 sets of workpiece management systems.
7.Display workpiece blance degree.
8.Information displayed on the monitor can be printed out (Printer optional).
9.RS-232 data output.
10.Workpiece balance value can e preset with indication pf standard or substandard status.
11.Computerized measurement and positioning are carried put wiht a simple Touch of the "Start" button.