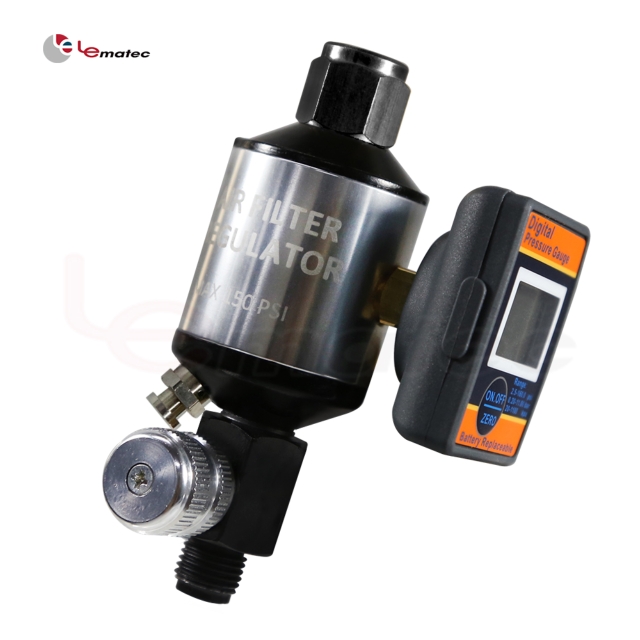 Air filter
Model:

AI303-R2

Country of Origin:

Taiwan
Detail Specifications / Descriptions
*AI303-R2, air filter with regulator and digital pressure gauge, 1/4 inch
*Pressure/flow adjustable and moisture trap/filter is done at once!
*For air tools, airline system, machine, spray paint gun, plasma cutter...etc.

(1) Removes water vapor, dirt, dust and oil vapor from airlines.
(2) With Drain Valve.
(3) Watch with a pointer clearly visible scale.
(4) Optimal for spray painting, plasma...etc.
(5) 1/4" inlet and outlet.
(6) Digital LCD display
(7) Impact-resistant housing.
(8) Solvent resistant based on normal usage.
(9) Made in Taiwan.

Lematec made air filter with the regulator is good for air inline tools, such as air spray guns, plasma, or others.

*2 in 1 design of pressure regulating and filtering liquid to speed up working efficiency.

*Press the release valve to eject all the waste that was trapped inside.
*Battery is replaceable, CR2032 x1.

*LCD Display and easy to read.
*Pressure range from 0~160 PSI, support PSI, BAR, KPA
*Auto-off function.

*Impact-resistant housing & Solvent Resistant surfaces.
*Without a screw, easy to change the battery.


This is LEMATEC's Air Filter with a regulator. It is designed to be used with air tools, for example, spray guns and sandblasters. The inline filter system attaches to the air hose, capturing any dust particles or other contaminants before they can reach the tool. This reduces wear on your equipment.

The filter works by trapping all of the water coming through it, which means that no matter what you are doing - whether it's spraying paint or sanding a piece of furniture, keep the air dry always

Inline air filter and oil water separator with a regulator. This is a great accessory for spray gun users to keep their equipment running at peak performance!