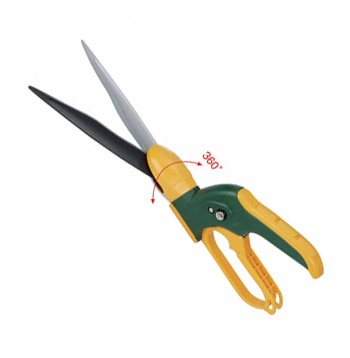 360° Swivel Grass Shears
Model:

3118

Country of Origin:

Taiwan
Detail Specifications / Descriptions
Description:
With 360° rotatable blade, the head is attached with security rotation head. Used in difficult places where mowers cannot reach, like around shrubs, borders, trees and walkways. The blade is made of high carbon steel, and has strengthened the concaved blade. Non-stick coating blade to prolong the usage time of the Shear. The blade tip is the special design waved-type blade, so it can easily shear the grass meadow with the acute blade. The handle is made of high quality ABS plastic material. The upper handle is attached with Air Cushion Grip. The upper handle is equipped wiht the automatic speedy switch lock, so that can operate it with with the single hand. The Grass Shear has the protection arch type in the lower handle, so that will protect the finger to grind directly with the grass meadow when shearing.

Specification:
Size: 340mm ( 13 1/2").
Upper blade: Middle carbon steel blade, non-stick coated, Wavy-type blades.
Lower blade: Middle carbon steel, chrome plating.
Handle: ABS plastic handles ,air cushion grip.
Packing: 6/36/CTN, 2', 14.5/15.5kgs.