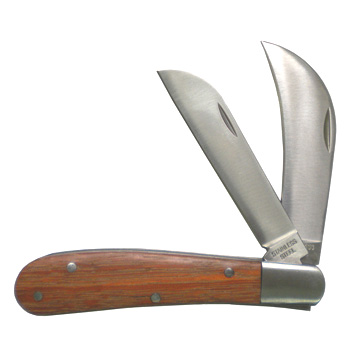 Foldable 2 Blades Garden Knife
Model:

K01 + K03

Country of Origin:

Taiwan
Detail Specifications / Descriptions
Description:
The curved blade and straight blade could satisfy all your requirement for garden work. Garden Knife with foldable blade. It's for easy storage and safety purpose. Handle of this knife is made of Wood. Wooden Handle Knife provide more gardening image and suitable for quality knife range. Stainless Steel Blade provide the long-lasting quality and sharp blade.

Specification:
K01 Size: 170mm (Folding 70mm blade ; 100mm handle).
K03 Size: 173mm (Folding 73mm blade ; 100mm handle).
Blade: Stainless Steel, sharp blade.
Handle: Foldable Wooden Handle.