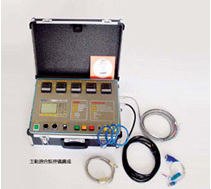 Portable Type Precision Spindle Temperature Monit
Model:

STM-3030S / STM-3030SR

Material:

Aluminum Suitcase

Color:

Black
Detail Specifications / Descriptions
1. To Carry Conveniently&Operate Easily,Be Capable of Monitoring&Ensuring Spindle Functions Indeed;
2. Wisdom Mould Procedure Controlling,To Provide The Most Specialized Monitoring&Inspecting Functions of Spindle;
3. Human-Based Curved Record Diagram&Data Table of Temperature Rising,Be Able To Differentiate The Spindle Related Functions Conveniently、Fast & Precisely;
4. When Sensor Occurred Unusual Conditions in The Process of Monitoring,System Has
The Ability of Issuing Alarm Automatically;
5. System Possesses Security Protection Function,It Absolutely Will Not Influence The Monitoring Procedure,Even Though Computer Crashed Suddenly,And System Will Be Able To Finish All The Procedures Designed Initially (But It Can Not Retain Record After Computer Crashed);
6. To Provide Three Kinds of Program Installing Environment,The Original Complex Form of A Simplified Chinese Character/ A Simplified Chinese Character/English Version.