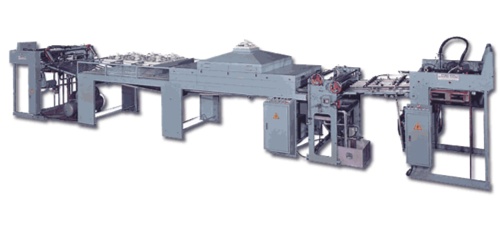 Fully Automatic Water-Based & Solvent-Based Varnishing Machine(With Auto Paper Stacker Device)
Model:

SSVW-2F
Detail Specifications / Descriptions
Continuous flow paper transporter for high efficiency; vacuum air suction unit helps keeping the stability and low noise, utilization of Single iron plate paper platform, wide car transporting paper saving labor and paper stacking time, raising work efficiency. Liftable conveyer allows easy cleaning and maintenance.

Fully automatic paper transporter, receiver utilizing three-sided paper arranger, air pressure device, low noise, low breakdown rate, operation so easy that can be handled by one operator.

Utilizing the newest short-wave infrared and hot-air drying techniques to completely dry the paper within the shortest time.

Cylinder especially designed for water based coating brings better glossiness.

Smooth conveyer operation avoid deviation and damage to the paper while varnishing.

Built-in counter, for accurate counting of the quantity processed.

Use thick paper only.