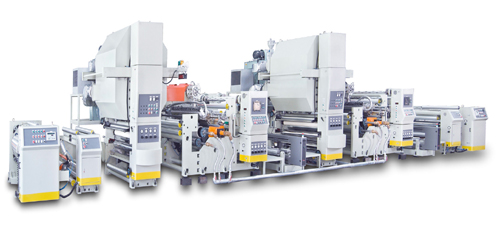 Tandem Extrusion Coating Laminating Machine
Model:

LN-LED
Detail Specifications / Descriptions
(1) Designed for coating/laminating operations of OPP, CPP, PVC, PET and aluminum foil.
(2) Employs Japanese made high performance T-die. Laminating length adjustable as desired, laminating temperature adjustable to maximum heat, minimizes waste material.
(3) Double Shaft Turret type un-winder and re-winder. Specially designed 2nd un-winder provides automatic material change and splice during high speed operations.
(4) Specially designed Arch type Enclosed Double Sided drying chamber gives outstanding drying performance.