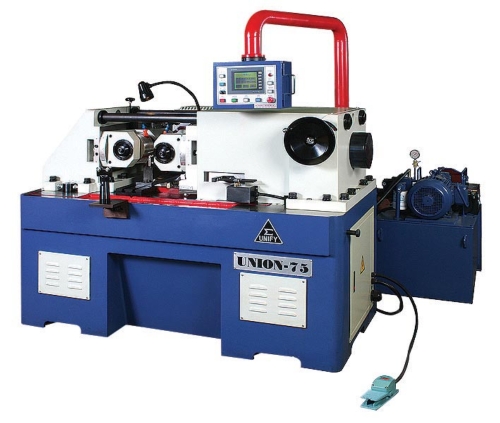 Hydraulic thru feed thread rolling machine
Hot
Model:

UM-75

Country of Origin:

Taiwan

Material:

Iron and casting
Detail Specifications / Descriptions
Thread rolling machines

Thread rolling machines are used to produce screws, bolts, and tools. Thread rolling is a cold-forming operation only for external screws threads in a blank. The blank is pressed by thread rolling dies which are attached to the thread rolling machine. The threads were formed by the pressing progress.

Threads produced by thread rolling machine provide fine surface, high production rate, greater accuracy.

The features of UM-75 thread rolling machine:

*The diameter range of threads rolled: 10 - 75mm
*Range of pitch rolled: 1.0P - 10.0P
*Max rolling length for in feed: 148mm

1. Thru feed and in-feed (plunge feed) both available
2. Powerful rolling pressure: the feeding is driven by hydraulic unit
3. Solid structure: case iron FC-25 frame
4. Steady feed motion: Ground square rail slide way can avoid the vibration and wear away.
5. Perfect transmission: thread ground worm & phosphoric brone worm wheel gear are matched completely and smooth
6. Specially suitable for: Long length screws, ACME screws, Ball Screws, machine parts, tool and automobile / motorcycle parts.