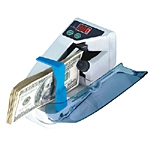 Detail Specifications / Descriptions
The V - 30 mini portable money counter is the smallest andhandiest counter for cash,banknotes, documents, tickets, etc.Digital display, lightweight, portable, convenient. In addition, it features
a cumulative counter, which can display up to 999. It can either run on 4 "AA alkaline batteries, or be connected to a common electrical source Auto110 to240 volts switch makes it work everywhere. And it even includes a FREE storage / carrying case!!