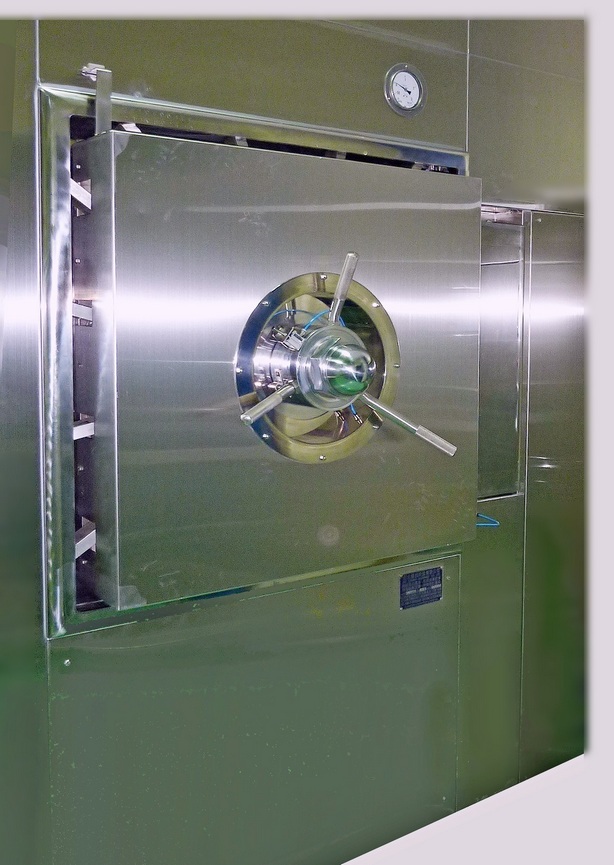 Steam Sterilizers
Model:

SSR-060608

Country of Origin:

Taiwan
Detail Specifications / Descriptions
Mechanical principles
1. The machine often placed between the washing room and sterile room, the product was placed in a sealed sterilization chamber, high temperature steam with enough time to kill microorganisms, access to safe products or apparatus.
2. Suitable for appliance, sterile clothing, rubber stopper, liquid (ampoules, vials), infusion (plastic bottles, soft bag or glass bottle) and other items of high temperature steam sterilization.
3. Suitable for pharmaceutical industry, food industry, hospitals, laboratories, biotechnology, schools and so on.

Construction
1. Jacket or jacket-free can be supplied.
2. The structure of the machine is made by stainless steel SUS 304,316,316 L, in accordance with cGMP standards.
3. Jacket with steam heating, so that the chamber to maintain the stability of temperature and can for vacuum drying.
4. Single door and pass through type two doors can supply.
5. Double doors through design, product or appliance after sterilization by sterile room out.
6. Door with silicone packing, make the door closed tightly, the steam no worry of leakage.
7. Steam piping fitting is made of sanitary pipe. The steam passes through one filter , kept in the best quality.
8. With the vacuum pump to make the chamber completely exhaust air, when steam enters, the temperature is evenly distributed.

Feature
1. The optional HMI and PLC automatic control. After parameter settings, the machine can automatic control.
2. The machine with temperature recorder, a complete record of the temperature distribution of full process.
3. The machine with test hole for the operation of the testers.
4. When the machine product from the factory, instrumentation and temperature sensor supply original test reports record, in accordance with cGMP standards.
5. The doors have a interlock control, two side doors does not open at the same time, and before the finish of the process, the door can't open, in order to avoid contamination.
6. The broken vacuum piping with 0.2μm filter, to avoid the sterilized product contamination.

* Safe and reliable construction and functions.
* Construction designed according to government code and with the approval license of the government.
* One door or pass through types two doors.
* Single wall or double walls with a steam jacket.
* Automatic programs: solution wrapped, unwrapped and vacuum test.
* Accessories: Temp recorder bacteria filter, silicone packing.