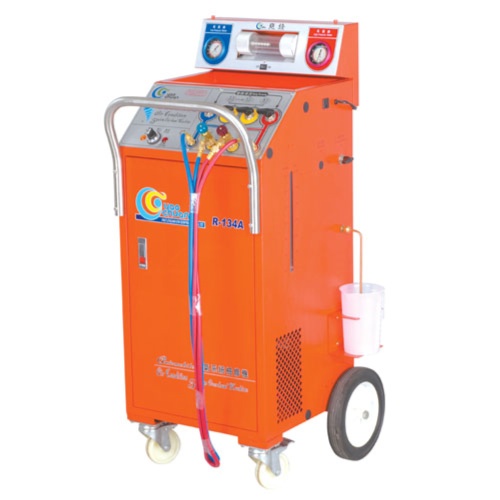 FR-777 Automobile Air Condition System Overhaul Machine
Hot
Model:

FR-777

Country of Origin:

Taiwan
Detail Specifications / Descriptions
Specification
*Compressor: 3/4HP
* Measurement: L55 X W61 X H118 (cm)
* Weight: 74 kg
* Liquid storage: 10kgs
* Appliance Refrigerant: R-12 R-134a
* Appliance site: car maintenance, small size air conditioner repair

Function
* Failure Diagnosis / * Pipeline Cleaning / * Refrigerant Recycling.
* Refrigerant Regeneration / * Refrigerant Oil Replacing.

Features
* Failure Diagnosis - Equipped with a big transparent refrigerant recycling window, we can check the refrigerant in the system and make a quick judgement about the condition of the refrigerant.
* Pipeline Cleaning - Strong compressor horse power, strong cleaning without dead angle, static and repeated flushing, backwash without dismantling.
* Refrigerant Recycling - Recycle gas and liquid refrigerant at the same time.
* Refrigerant Regeneration - Special regenerating system, using the newest distillation refrigerant processing technology, and makes the refrigerant more pure.
* Easy Operation - Automatic stopping, unloading and oil feeding function after the recovery is finished.
* Easy Checking - There is a liquid level meter with a level ball inside in the liquid storage tank, we can clearly check the refrigerant condition.
* Quality Assurance - Liquid storage tank, oil separator and heat exchanger are made of galvanized iron, French-made compressor, advanced ball valve are used in this machine and make it durable.
* Significant effect - It can clean out the impurities, iron scale and fluorescer etc in the system, unblock the pipeline and reduce fuel consumption, make air conditionings more effective.