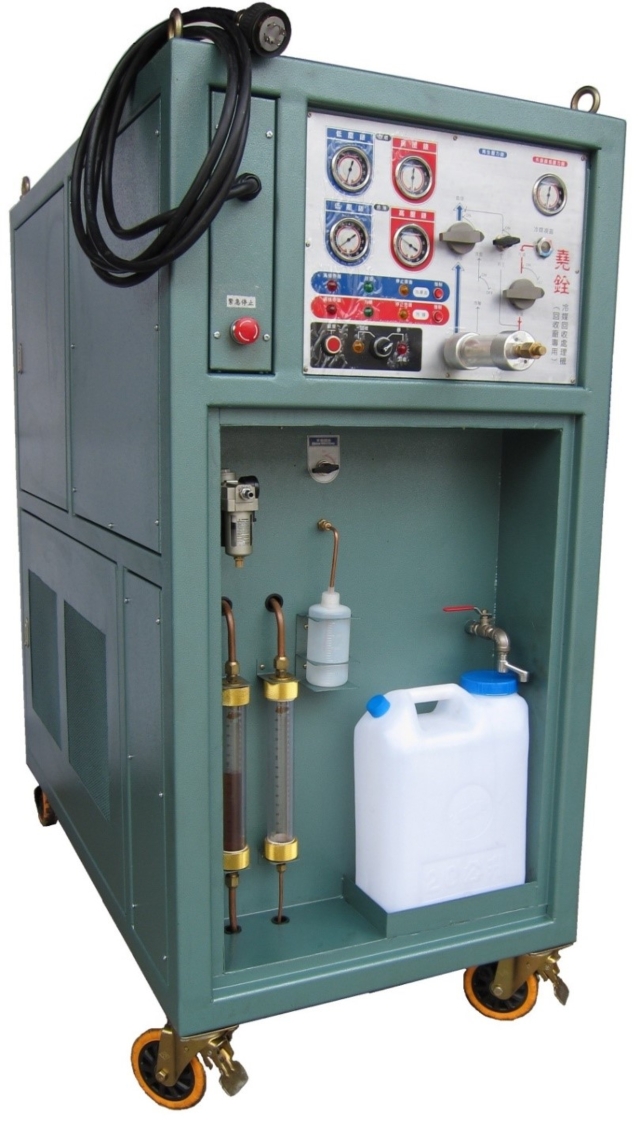 FR-757-S Large Refrigerant Recycling Machine
Model:

FR-757-S

Country of Origin:

Taiwan
Detail Specifications / Descriptions
Compressor:3 HP + 2.5 HP
Size:L153 X W81 X H172 (cm)
Voltage:3 Φ 220V
Pressure source:5 kg /cm3
Weight:540 kg
Liquid storage tank:11 kg
(Galvanized iron)
Applicable Refrigerant:R-22 or R-12 or R-134a (Limited to recycled refrigerant)
(Welcome ordering other types of refrigerant )
Applications:
1.Refrigerant recycling processors
2.Large AC maintenance plants

Features
1. Automatic control of the equipment,includes automatic recycling, automatic filling and automatic oil discharge.
2. Recycle gas and liquid refrigerant at the same time,and exhaust impurities and oil in the recycling process automatically.
3. Automatic stopping, unloading and oil feeding function after the recovery is finished.
4. This machine is equipped with special oil separator,heat exchanger and special regeneration system,and use the newest distillation refrigerant processing technology, make recycled refrigerant more pure.
5. The machine has safety protection and automatic exhaust function, protect the machine and compressor from damaged.
6. Installs engines off protective device, avoids recycler's engine off immediately opening machine.
7. Use advanced etching panel and advanced ball valve switch, makes machine sturdy and durable without leaking.
8. Stainless steel materials for the all special treatment tanks,never rust and enhance the durability of life.
9. Equipped with automatic compressor cooling device, it can be used to protect the compressor operation from overheating damage even for a long time using.
10. Suitable for dealing with large quantity of refrigerant recycling, purification and regeneration.