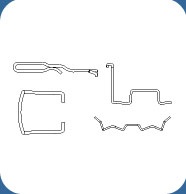 Detail Specifications / Descriptions
Wire form processing is the bending of wiring to specific shape or flexibility normally used in puller, fastener, retaining ring or other special feature products.
The selection of materials prefer toward stainless steel to prevent secondary surface electroplating needs. The design of R angle in each end requires special attention as overly straight angle bending will resulted in fracture or breakage when external force applies.
 
This product tends to strangle causing inconvenience on the production line. Please consider reducing the number of production processes needed during the design phase.