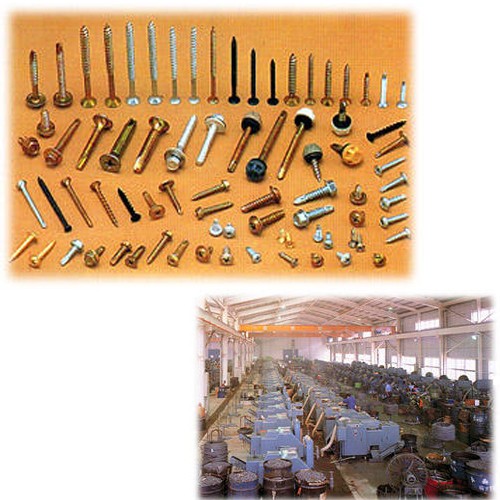 Detail Specifications / Descriptions
The chief products of Chun Yu's tapping screw production lines are self tapping screws, hardwood screws, self drilling screws, plastic screws, cargo container screws, roofing screws, wood screws, and small machine screws, etc.
Now, let's take a look at the manufacturing process for tapping screws:

Preparation of raw materials, removal of surface layer and hard drawing, spheroidization, pickling, phosphate and lubricant treatment in preparation for skin pass, skin pass to the dimensions required for forging, head forging, tail clamping, milling of threads, carburization, surface treatment, packaging, and storage. On-site inspections are conducting during the forging, tail clamping, and thread milling steps, and factory operators must first conduct a pilot run, take measurements, and adjust machinery before manufacturing each different specification. Manufacture begins only after inspecting the initial piece and making sure that it meets work sheet specifications. Inspection and measurement results are recorded on an on-site inspection form. One inspection is performed every 15 minutes, and inspection results are recorded once every two hours. Inspection records are collected by the section chief and submitted to the division chief for signing. Company managers perform unscheduled random audits and provide the results to the Quality Assurance Department to serve as a basis for process control. The Quality Assurance Department inspects the appearance and mechanical properties of finished products after carburization, and also safeguards product quality by performing a final inspection before packaging and shipment.