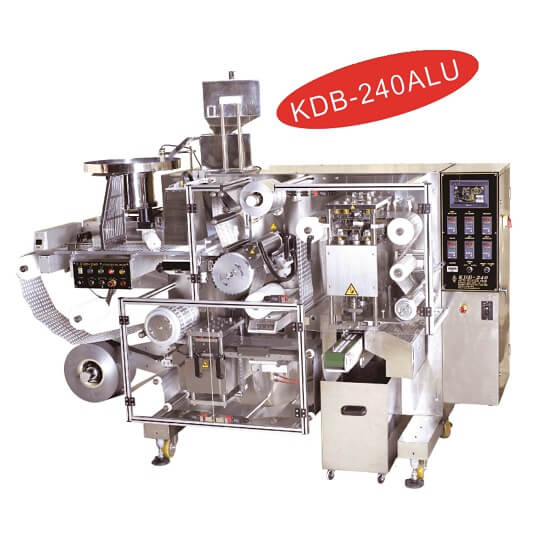 Blister Packaging Machine
Model:

KDB-240
Detail Specifications / Descriptions
Kwang Dah Enterprises Co., Ltd. started to research and manufacture Phamaceutical Machines and the KDB series of Blister Packing Machine since 1971.The KDB-120 series of blister Packing Machine offer flexibility that can satisfy a very wide range of products . It can be used for the pharmaceutical packing(tablets,capsules,pills and etc.), food and other similar products packing.

Kwang Dah has designed and improved the traditional blister packing machine after many years of experience with manufacturing and based on the trends of pharmaceutical machinery in the world.(With the concept of CGMP, packing needs to be preserved longer; the packing method should not have any influence on the effectiveness of the medicine.)In this series there is the Mid-speed KDB-120 that canproduce max.200 blisters/min.,and the High-speed double line KDB-240 that can produce max. 400 blisters/min.
Flat plate & compressed air forming offer the best package quality minimize film shrinkage and bring about uniform wall thickness and good appearance.

It uses a cross-net type roller for hot sealing, resulting in a beautiful appearance and better seal-up ability.
The temperature will not affect the medicine that can over 4 times longer than plate-type hot sealing .

Hot-pressed embossing and perforation are easily adjustable and the settings enable easy separation and beautiful apppearance.

Trimming by a precise Index,no waste packing material gets between two processed blisters and saves cost of materials.

Applicable industry:Pharmacy, Biotechnology, Health Supplements, Nutritional Supplements, natural food…etc.

Max. Capacity: 400 Blisters/Minute.