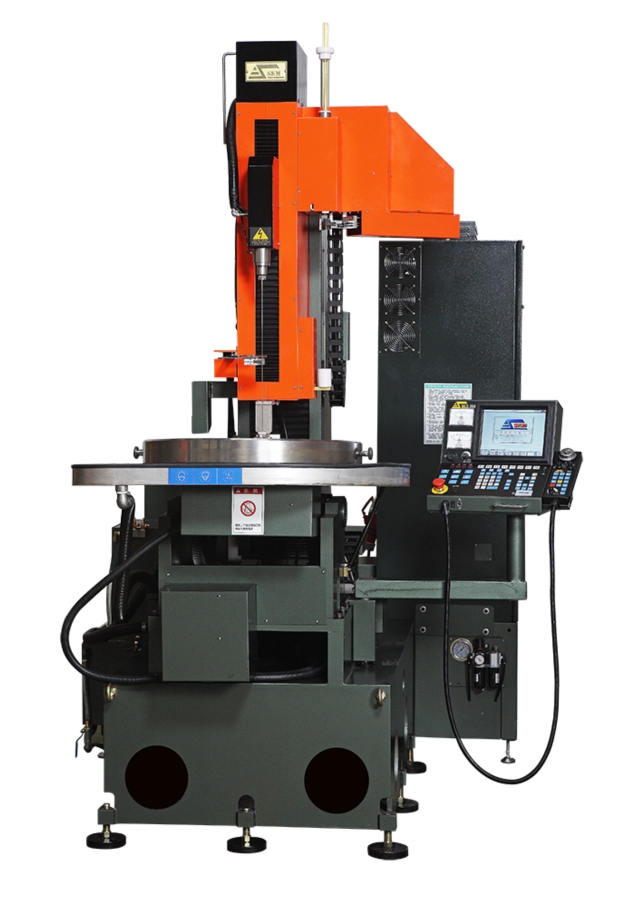 Tire Mold Dedicated Hole Drilling EDM
Model:TD66
Detail Specifications / Descriptions
1. Y、Z、C、U、V、B 6 axis use AC servo motor. High efficiency and precision .
2. Automatic Brass Change System (PATENT). Maximum brass store 60 pcs. Can be 24hr uninterrupted machining ,improve machine effectiveness.
3. Using brass length 600 mm. Reduce the loss of brass.
4. Exclusive using special hole drilling through detector. Reduce drilling time.
5. Processing fluid using ionized water ,with circulation filtration system. High machine effectiveness.
6. V axis -10°~ 80° , U axis 0°~360° combined with computer automatic control. Suitable for all tire mold vent hole processing.
7. Y、Z、C axis design using linear guide ,with precision ball screw.
High-precision and long life.
8. Use 64 bit industrial computer (IPC) , 8 axis motion control card. high stability and reliability.
9. Option addition SKM serve system. Via the internet instant monitoring machine processing, program file transfer.
10. Use dialogue editor, Simple and easy to understand. Also combined ISO code acceptable CAD/CAM format files can be widely used.
11. Special machining code can be set up to 6 different depth and drilling EDM.
Condition for each hole processing. To raise substantially for machining efficiency.
Specification
TD66
  
X-travel
  
      
Y-travel
  
500 mm
    
Z-travel
  
750 mm
  
Backslide travel
  
600 mm
  
B-travel
  
360°
  
U-travel
  
360°
      
V-travel
  
-10°~85°
    
Table dimension
  
Ø438 mm
  
Work table dimension
  
Ø910 mm
  
Maximum workpiece dimension
  
Ø900 mm
      
Maximum distance od table quill (Guide)
  
280 mm
    
Electrode pipe dimension
  
Ø0.3~Ø3.0 mm
(special Ø0.1~6.0 mm)
    
Automatic brass tube replacement electrode dimension (option)
  
400mm銅管Ø0.8~Ø3.0 600mm銅管Ø01.0~Ø3.0 (Special specifications are negotiable)
    
Processing fluid capacity (pure water)
  
45 Liter
    
Water tank capacity
  
55 Liter
    
Filter Element
  
1 pcs
    
Machine weight
  
2500 kgs
    
Machine Height
  
2265~2765 mm
 

Send inquiry to this company