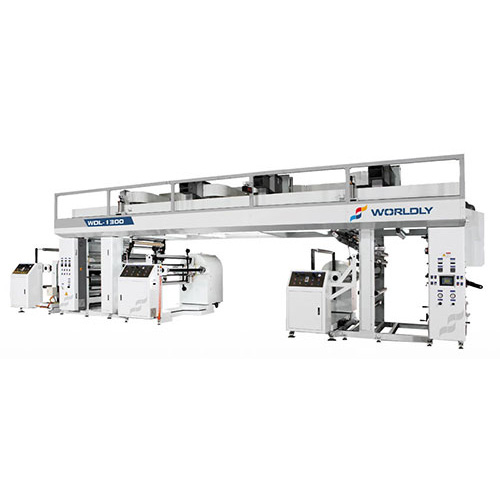 Dry Laminating Machine
Model:

WDL-1300

Country of Origin:

Taiwan
Detail Specifications / Descriptions
In response to the mass demand of various materials and multiple methods in flexible packing markets, WORLDLY provides the WDL multiple functional drying laminating machineries as the ultimate solution. With this machine automatic taper tension settings can also be easily adjusted on the panel according to different technology process applications. Drying temperature is adjusted by PID automatic temperature controller that balances the required temperature. Internal transition rollers in the drying tunnel are connected together with belt and transmitted by an independent AC motor. In addition, to insure smooth and solid firm laminating results, the machines laminating unit uses a three roller design. The counter-roll pulled by pneumatic pistons, and adjustable from both sides to stiffen the rider roll. With these specific designs on the WDL, provided is increases production and minimize loss which are essential for flexible packaging.

Application
PET, CPP, PVC,OPP, PP, PE, Nylon, Aluminum Foil, Paper.
Optional Features
- High performance synchronized control system by PLC, provides convenient operation.
- Reversible smoothing roller prevents air bubbles during lamination.
- 4-zone drying: high drying performance and non-volatility remain.
- Drying system options: Thermal oil, Gas burner and Electric heating.