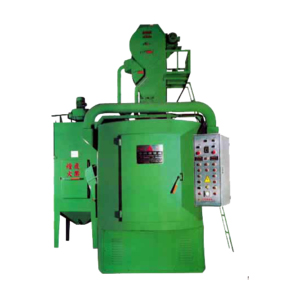 HANG SWIVEL TYPE SHOT BLASTING M/C
Model:

CH-102

Country of Origin:

Taiwan
Detail Specifications / Descriptions
The work piece be hanged on the hanging fixture out of machine and which swinged slowly get into the blasting chamber for then, the work piece surface will be shoted steel ball by shot wheelabrator in hi-speed and continuously, but the hang work piece turned in low speed, Since, the work piece surface will be shoted evenly, after that, the casting sand, scaling & burring etc, which adhesived on the work piece surface will be cleaned soon, the processed work piece will be shined & burnished and convenient for next step processing.

This m/c is suitable for shoting complicated profile medium or small size casting work piece, such as: castings of engine, parts of sewing m/s etc.

Max. load capacity:500kg
Max. load height:1,100mm
Working table dia.:1,700mm
No. of wheelabrator:2
Shoting power:7-1/2HPX2
Working table driving power:1HP
Elevating shot power:1HP
Dust collecting power:3HP
Used floor space[LXW]:4m2
N.W.:3,200kg
We reserve the right to modify the designs & specifications. so that,those are subjected to change, without prior notice.
Machine made available on request.