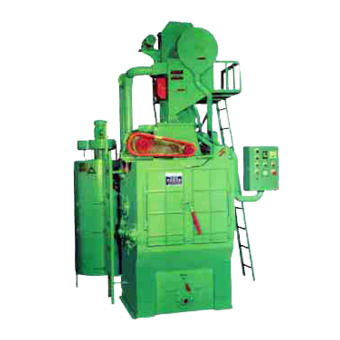 TUMBLING BARREL SHOT BLASTING M/C
Model:

CH-100

Country of Origin:

Taiwan
Detail Specifications / Descriptions
This m/c is suitable for handling small casting work piece or zinc & aluminium die castings, those processing barrel which rotated in low speed and continuously, mean while, the work piece surface will be shoted steelball by shot wheelabrators in hi-speed and continuously also, after then, the casting sand, scaling & burring etc., which adhesived on the work piece surface will be cleaned in short time, the processed work piece will be shined & burnished and convenient for next step processings.

1.Low-noise, high-quality treatment effect。
2.The machine is small, compact design takes up little floor space, ease of site layout.

Handling capacity:150kg/times
Shoting power:7-1/2HP / 10HP
Elevating shot power:1/2HP
Helical collecting power:1/2HP
Tumbling barrel driving power:1HP
Dust collecting power:1HP
Used floor space[LXW]:2m2
N.W.:2,200kg
We reserve the right to modify the designs & specifications. so that,those are subjected to change, without prior notice.
Machine made available on request.