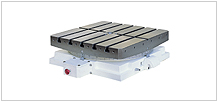 Precision Index Table
Model:

GCT-301~1200
Detail Specifications / Descriptions
•Suitable for the high accuracy machining such as Boring-Milling, Grindding-Machine.
•Build-in 2 pieces hirth coupling for positioning, indexing accuracy +/- 3 sec, ensure a long-term operation.
•Powerful clamping design, allow heavy cutting and boring.
•Clamping / Unclamping by pneumatic, easy operation.
•The body is FC-35 cast iron, durable and will last longer without deformation.