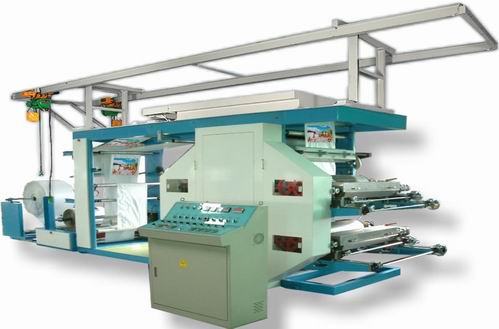 AUTOMATIC FLEXOGRAPHIC COLOR pp woven bag PRINTING AUTOMATIC FLEXOGRAPHIC COLOR PRINTING
Model:

LE-4800PRS http://www.lungye.com.tw

Country of Origin:

Taiwan
Detail Specifications / Descriptions
http://www.lungye.com.tw
1.360º SERVOMOTOR continuous and adjustable longitudinal register device.
2.TYPE SERVO MOTOR DRIVE REEL TO REEL PRINTING MACHINE
3.Easy operation flexible starting accurate color register.
4.The meter counter can set printing quantity according to the requirements stop the machine automatically at the set quantity or when the material is cut off.
5.Lift and lower the printing plate cylinder manually it will automatically stir the printing ink after lifting.
6.Reliable drying system coordinated with high-speed rotation it will automatically break circuit when the machine stops.
7.Current output type temperature control system makes heating quicker and electricity saving.
8.The printing ink is spread by the knurled cylinder with even ink color.
9.Obverse and reverse side once-through continuous printing.
10.The imported frequency control of motor speed adapts to different printing speeds.
11.There are inch stopping buttons on the plate roller base and material rolling rack so as to make it easy operate the machine when the plate is installed.