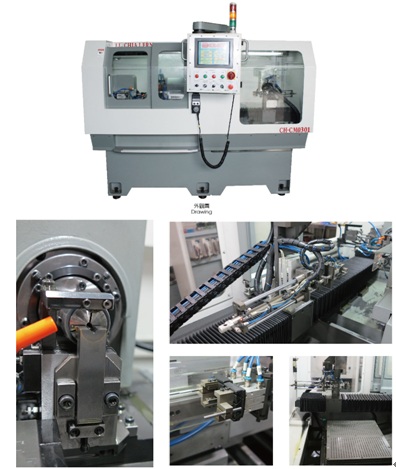 CNC Multi-Purpose Tool Profile Grinder
Model:

Model: CH-CM0301

Country of Origin:

Taiwan
Detail Specifications / Descriptions
a. Automatic loading-unloading system.(X.Y Table loader for finished products' twice process)
b. Rough and finish plunge grinding in one clamping of tool blank.
c. Precision V block & pressure finger to keep perfect blank geometry.
d. Collet concentricity is adjustable.
e. The Radial abrasion of wheels can be compensated.
f. It can maximum grinding 8 surface of complex forms in one clamping.
g. Precision wheel spindle and high stiffness work piece spindle.
h. Equip with front end detection sensor let the operator can execute secondary process and secondary grip without the damage of workpiece fluted.
i. X Y spindle low gravity accuracy bed, Germany FESTO air pressure component, Double-Spindle servos correspond the best sport adjustment, graph & dialogic human machine interface, processing loading induction. To ensure the stable mass manufacture and working demand.