Taiwanese Manufacturers to Amaze Global Buyers at TAPA 2023
2023/03/27 | By Andrew Hsu
Originally the biennial Thailand Auto Parts & Accessories Show (TAPA) is finally re-launched from April 5 to 8, 2023 after a five-year hiatus since 2018 due to the pandemic. At this year's TAPA, more than 500 manufacturers of automotive parts, decorative accessories, and related services will be gathering at Bangkok International Trade & Exhibition Centre (BITEC) and occupying more than 800 booths. They are expected to create connections with 6,000 visitors from 80 countries, including the ASEAN (Association of Southeast Asian Nations) countries, South Asia, Japan, Taiwan, China, Russia, Australia, the Middle East, North America, Europe, and others.
Meanwhile, the organizers also provide an online exhibition platform——tapa2023.ditpvirtual.com, enabling buyers who couldn't make it to the show to simply tour the exhibition booths and participate in online business matchmaking as if they were on-site.
As the largest automotive manufacturing and export hub in the ASEAN region, Thailand is the 12th-largest automaker in the world, with its exported automotive parts and accessories mostly going to the United States, Japan, Indonesia, Malaysia, and China. Under the concept of "Sustainable for the Future", TAPA 2023 is focused on promoting technologies that can advance the industries' sustainability, and offers a variety of exhibits divided into six categories, including Auto Parts & Components (OEM/REM), Auto Accessories, Repair, Maintenance & Services, Lubricants/Maintenance Products, IT & Management, Tool/Dies & Machine.
At this year's TAPA, Economic Daily News (CENS.com), which organizes an exhibitor group of 45 Taiwanese manufacturers to participate in the show, will hold a booth at O36, to circulate the Taiwan Transportation Equipment Guide (TTG) and USB e-book on-site. TTG is Taiwan's foremost auto parts magazine and contains abundant information of local suppliers, making it a brilliant buyer's guide at world's major automotive exhibitions. Furthermore, a special issue of the newspaper will be available at CENS's booth for free, which allows visitors to quickly access detailed information on Taiwan exhibitors, including the booth location, contacts, and highlights of the exhibitors. In addition, real-time business matchmaking services will be provided during the exhibition, to enable professional buyers to interact on-site with suitable Taiwanese manufacturers.
The auto parts industry in Taiwan is well-established and enjoys a high profile for insiders' capabilities to satisfy demanding customers from all over the world with high-mix low-volume manufacturing services, trustworthy quality, and quick delivery. Over the past years, the trend of consumers switching to classic cars and extending the use of existing vehicles has intensified, along with the rise of EVs, which has led to an upsurge in demand for auto parts and accessories. Under this scenario, Taiwan's auto parts manufacturers have generally seen robust growth in sales regardless of the pandemic. Furthermore, ever more auto parts manufacturers in Taiwan have joined hands with local partners from the information and communications technology (ICT) sector, to sharpen their R&D and manufacturing edges and work out globally competitive auto electronics and customized products. According to the Ministry of Economic Affairs Bureau of Foreign Trade (MOEA), the industry's export value grew by 14.58% year on year in 2021 and 15.17% from January to September of 2022, indicating that auto parts and components made in Taiwan are increasingly popular around the world.
Exhibitors from Taiwan at TAPA 2023 will include Probe Industrial Co., Ltd., which manufactures engine parts; Cheng Mao Precision Sealing Co., Ltd., which makes oil seals; Fair Sun Industrial Co., Ltd. and Cheetah Automotive Products Co., Ltd., which produce electrical parts; Advanced-Connectek Inc., which provides advanced driver assistance systems (ADAS); Botom Co., Ltd., which rolls out power transmission systems; King Duan Industrial Co., Ltd., which supplies forgings; Elig Brake Technologies Corp., Adui Brake Industry Inc., and Shin Ding Cheng Enterprise Co., Ltd., which turn out brake systems; Asuka Autotronics Inc., which fabricates auto electronics; Sajin International Co., Ltd., which is specialized in suspension systems; Giving Industrial Co., Ltd., and View Max Industrial Co., Ltd., which are dedicated to the production of car mirrors. In total, there will be 45 exhibitors, occupying 48 booths.
After five years of suspension, TAPA is expected to stage a great comeback in 2023, partly driven by the abovementioned Taiwanese auto parts manufacturers, who are ready to stand on tremendous opportunities with new products, technologies, and R&D energy they have accumulated over the past years.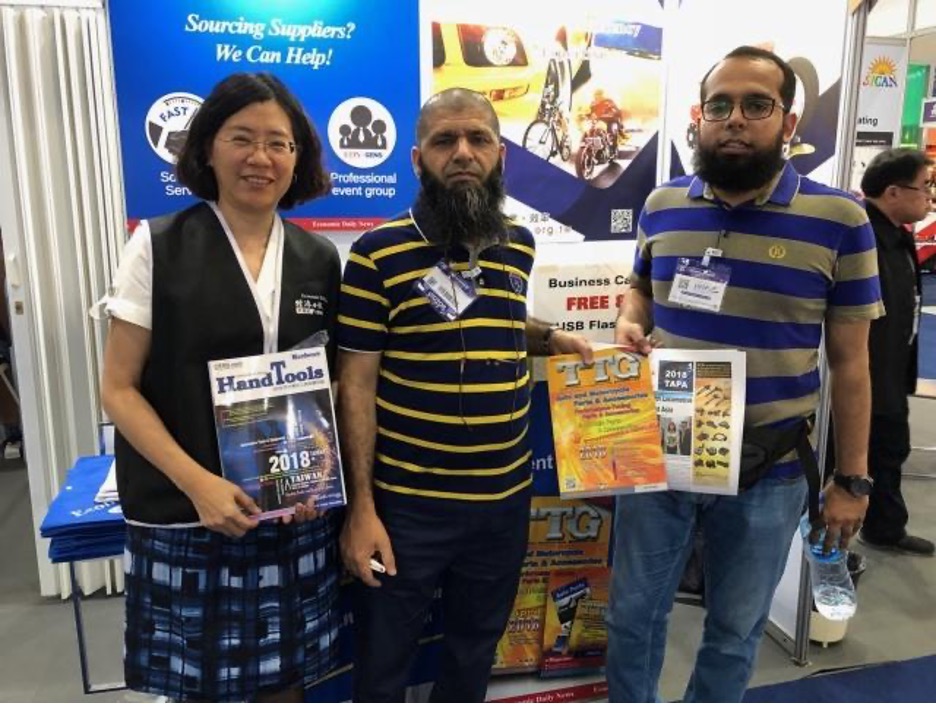 Economic Daily News (CENS.com) published TTG at TAPA 2018. (Photo courtesy of CENS)