CENS and Taiwanese suppliers seek biz at Automechanika Frankfurt
2022/09/16 | By Tingyu Chao
The biennial Automechanika Frankfurt 2022 show kicked off on Sept. 13 and is slated to last five days. As the world's top-quality trade fair in the industry, the show presents a wide range of products, including various auto parts, maintenance and repair equipment, tools, automotive electronics, MaaS solutions, and autonomous vehicle-related products. In addition, this year's edition would be the first to open after the COVID-19 pandemic in a hybrid manner, incorporating both in-person and online platforms.
Approximately 3,000 exhibitors from around 70 countries/regions are attending this year's Automechanika Frankfurt, with the top ten origin countries of these exhibitors including Germany, Italy, Turkey, China, Poland, India, Taiwan, the U.K., Spain, and South Korea.
The Economic Daily News (CENS) booth is located at Hall 1.2, A35, providing buyers the chance to acquire trade magazines, such as the "Taiwan Transportation Equipment Guide" (TTG), TTG USB, and "Taiwan HandTools," which are exclusively published by CENS. Buyers on-site can also use CENS' business matchmaking service, another exclusive service from CENS, and remove travel and time zone constraints that often challenge global procurement processes.
Taiwanese suppliers felt highly encouraged to partake in this year's show, as it was the first Automechanika Frankfurt event to open after the COVID-19 pandemic broke out in 2020. According to the real-time, on-the-ground news obtained by CENS, Taiwanese exhibitors say that they have yet to see the renowned crowd size from the pre-pandemic era. However, they expressed optimism as they realized that potential clients were more willing to inquire further and in more detail regarding their products and services and were less hurried to move on to other booths.
Many industries are going through the growing pains of restructuring the supply chain, and the automotive parts industry is no exception. This has resulted in many buyers adjusting their expectations for long-term partnerships, seeking to find flexible and resilient suppliers in the supply chain chaos. Against this backdrop, CENS publication team members report encountering a buyer who had visited and filled out CENS' biz matchmaking services over a decade ago. This buyer, in particular, is from Colombia and is attending Automechanika Frankfurt to procure auto parts, classic car parts, and products related to electric vehicles. The buyer's visit highlights the trade fair's importance and CENS' role in the sourcing process among global buyers.
Around 130 Taiwanese suppliers are exhibiting at the show, including control and suspension arm supplier A-One Parts (Hall 1.1, J35B), solenoid supplier Fair Sun (Hall 1.2, C24), carbon steel ball supplier Tan Kong (Hall 1.1, J21D), double spoiler wiper blade maker Fu Gang (Hall 1.2, A14), oil seal maker Shian Fu (Hall 1.2, A30), iCam-Intelligent Camera ADAS Series maker Chimei Motors (Hall 1.2, E25), tools supplier Organizer Precision Tools (Hall 1.1, K22A), and pneumatic socket maker Tian Fu (Hall 8.0, G81).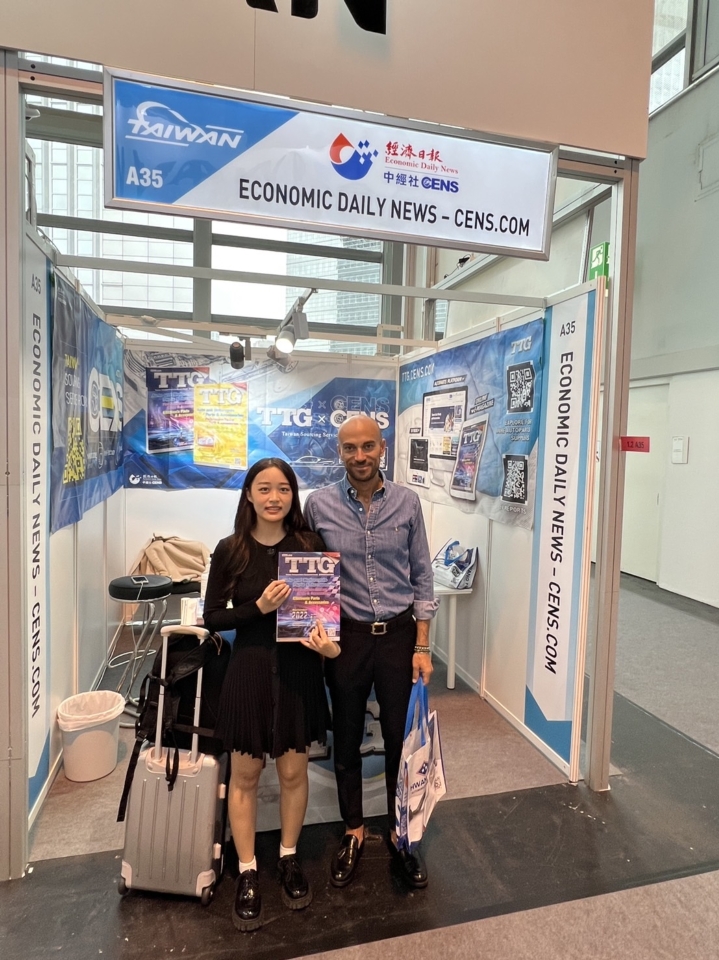 Economic Daily News (CENS) publication team member poses with a buyer at Automechanika Frankfurt, while holding the Taiwan Transporation Equipment Guide (TTG). (Photo courtesy of CENS)