Tai-Shing Electronic Corporation, established since 1984, became a listed company in 2016.
Tai-Shing Electronics shares its factory and facilities with its parent company, TXC Corporation, located at Ping Cheng District, Taoyuan. In 2002, Tai-Shing also invested in TSE Technology Corporation, located in Ningbo, China. Tai-Shing Electronics Corporation is one of the leading solenoid manufacturers in Taiwan, specializing in solenoids, solenoid valves and relays.
With nearly 40 years of experience in the production, research, design and manufacturing of solenoids and solenoid valves, Tai-Shing has always been capable of providing ODM/OEM services with high quality and reliability product, and building an excellent reputation overseas.
Tai-Shing has a professional R&D team and has integrated advanced simulation software capabilities into its operations, ensuring the company can meet customer requirements and specifications in the early stage of customization.
The application of solenoids, solenoid valves and relays have been used wisely in all market segments such as industrial, energy, automotive and smart life industries.
As the COVID-19 pandemic has changed many aspects of social life, from heavily relied on labor to highly automated intelligent applications, such as electric vehicles, self-service kiosks, smart meters, electronic door locks, medical, industrial sewing machines and automatic control, induction faucets, and more.
Tai-Shing has a global market presence, with customers based in North America, Germany, Switzerland, Britain, France, Northern Europe, Taiwan, Japan, South Korea, Russia and more. The company also has local offices in the United States, German, Japan and China for local support and service.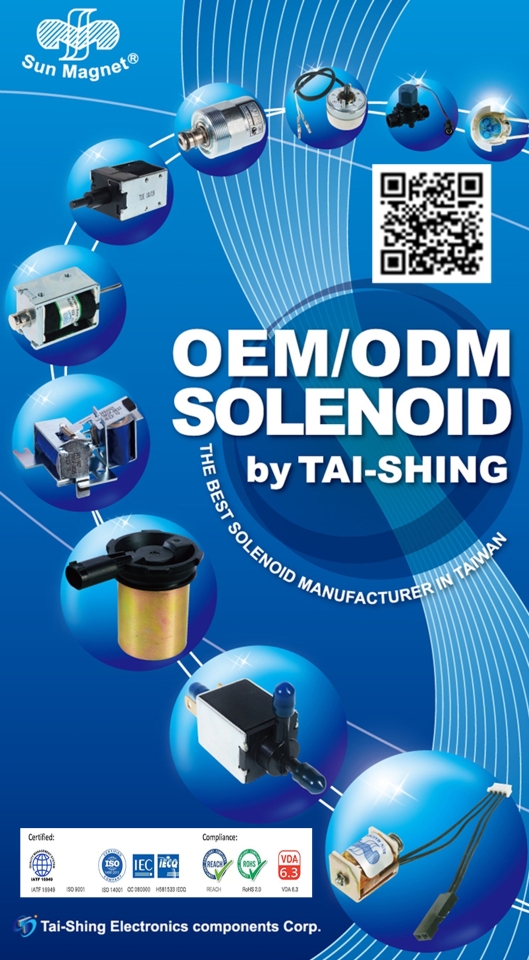 Tai Shing Electronics Components Corp.
Headquarters in Taiwan
Ping Cheng Factory
6F., Building A, No. 4, Kung Yeh 6th Road, Ping Cheng Industrial District, 324, Taoyuan City, Taiwan
Tel: 886-3-469-9777
Fax: 886-3-469-9955
SOLENOID: solenoid@tai-shing.com.tw
RELAY: relay@tai-shing.com.tw