The first edition of the three-day in-person 2035 E-Mobility Taiwan wrapped up to a close on the 22nd, with its virtual edition continuing to Nov. 20.

E-Mobility is an international exhibition that showcases the electric vehicle and self-driving car ecosystem. As show organizer TAITRA's Chairman James Huang said during his opening ceremony remarks on the 20th, the much-touted show is intended as a platform for product displays, seminars, business meetings, and exchanges of ideas to stimulate creative communication between companies and establish future e-mobility collaboration and business models.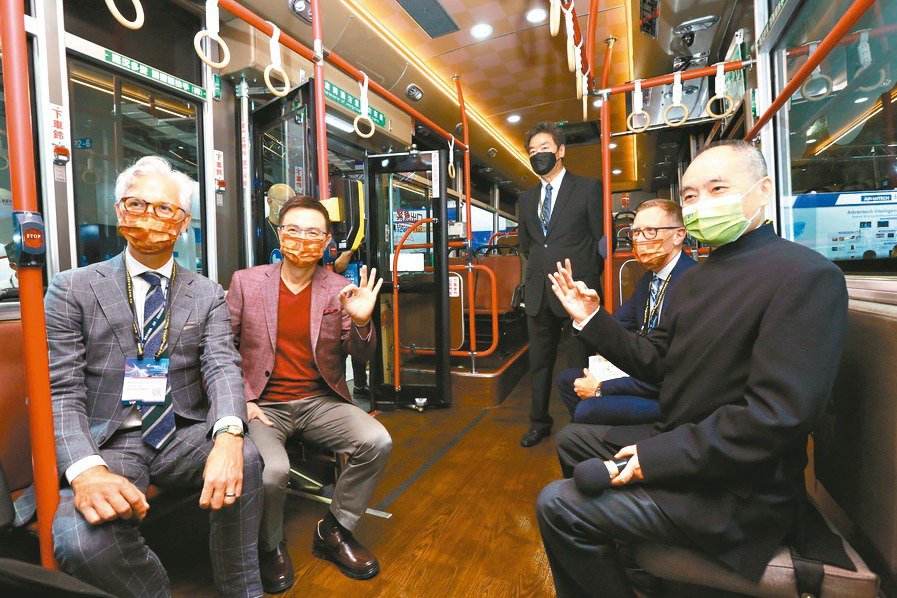 TAITRA Chairman James Huang and VIPs tour an electric bus at the 2035 E-Mobility Taiwan show. (Photo credit: TAITRA)
The global automotive industry has seen notable transformations due to the electrification trends sweeping through the field. In response to the changes, 2035 E-Mobility features a large ratio of ICT companies and traditional auto parts suppliers offering revamped solutions for electric vehicles (EV).
Among the highlighted exhibitors were Foxconn's MIH Consortium, an EV software and hardware open platform that promotes open industry standards. Aside from announcing its partnership with major tech firms Arm Ltd., Microsoft Corp., and Trend Micro Inc, the prototypes of three new electric cars -- the Model C, Model E, and Model T developed by Foxtron Vehicles Technologies -- a joint venture between Hon Hai Group and Yulon Motor, were also showcased on site.
It's never been more apparent how Taiwan's policy has spurred R&D in the industry at 2035 E-Mobility, as Taiwan is pushing to upgrade its entire 11,000-strong city bus fleet to electric by 2030. Along with Foxtron Vehicle's offering of an electric urban bus Model T, many exhibitors showcased their own renditions of the electric bus. Master Transportation Bus Manufacturer's electric bus also shuttled visitors between the Nangang Exhibition Center Hall 2 -- where the show was located -- Hall 1, and Taipei City Hall MRT Station.
Another trend seen at 2035 E-Mobility is the strengthening of alliances, presented in the form of supply chains across ICT and key fields. For instance, MIH's booth showcased its partnerships with Arm, Microsoft, and Trend Micro, key software platforms for Software-Defined Vehicles (SDV), including a security platform, cloud-native development platform, advanced driver-assistance systems (ADAS)/autonomous driving (AD) development platform, an energy management platform, and an EEA and runtime open marketplace.
At Master Transportation Bus' booth, the exhibitor presented their EV bus solution under a collaborative effort with Tatung, ADLINK, Phihong, MSI, and Elitegroup Computer Systems.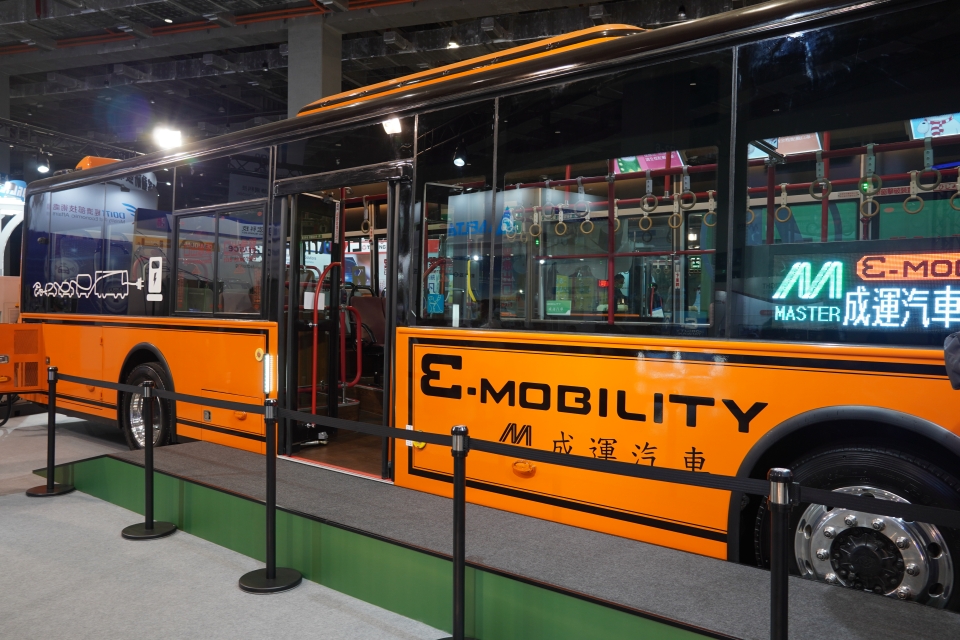 Master Transportation Bus` EV bus showcased at 2035 E-Mobility Taiwan. Photo Credit: CENS
In terms of government-led initiatives, the mTARC pavilion, organized by the Economic Ministry's Department of Industrial Technology (DoIT), featured technologies across EV and autonomous vehicles (AV). For instance, the Metal Industries Research & Development Center showcased its electrical controlled suspension and ITRI's EV battery charging and swapping module system, which ensures optimization of battery consumption and usage, and collected data would provide insight into battery performance and longevity.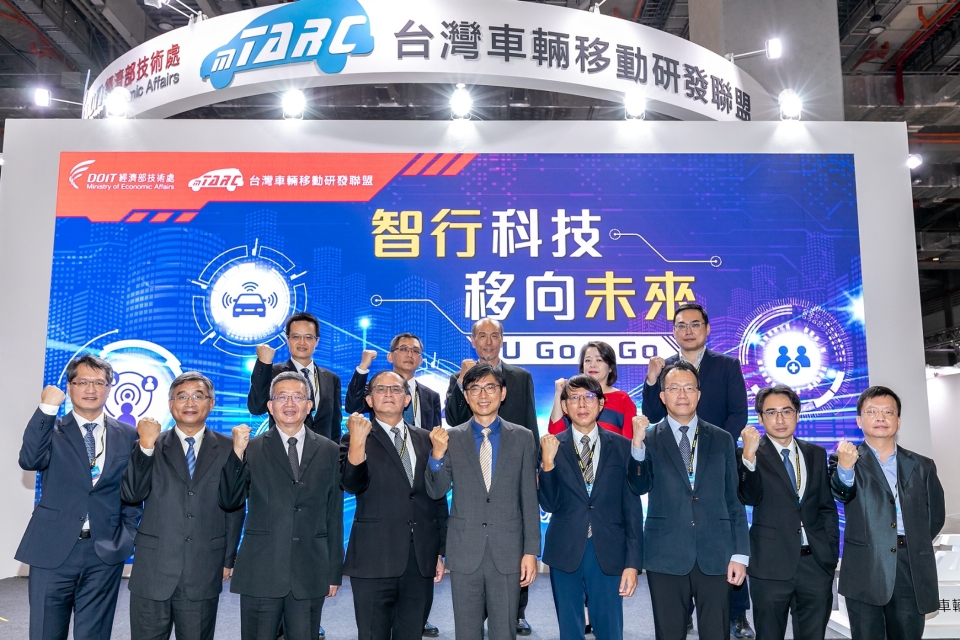 Photo Credit: MOEA DoIT
Highlights at the show were in the form of traditional industries paving the way for innovative products that check off all the marks. Cub Elecparts' sphere-shaped tire sensor addresses commercial truck application by simplifying the fitting and removal processes. Unlike traditional sensors that must be tied to the tires, the sphere-shaped sensors will stay inside the tires with inertia.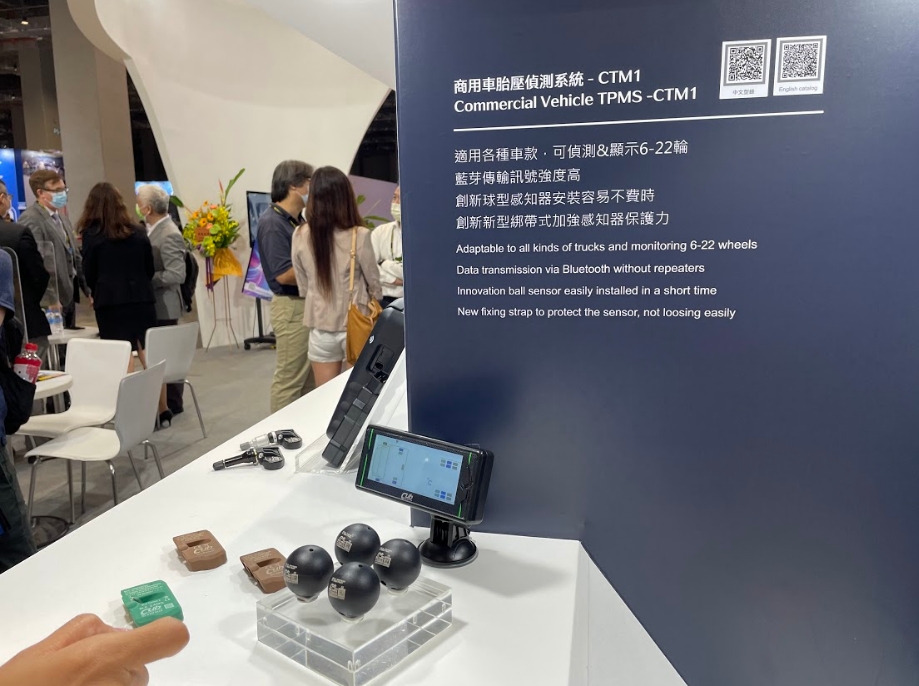 Cub Elecparts` newly-patented sphere-shaped tire pressure sensor. (Photo credit: CENS)
Other selections include prototypes of future EV charging solutions embedded into the floor, where EVs only need to park over the charging area, as offered by LiteOn.