OmniEyes' AI Technology Paves the Way for Traditional Industries' Digital Transition
2020/12/15 | By Tingyu Chao
The COVID-19 pandemic has accelerated the industries' timeline for implementing digital transformation. However, the how's and what's of applying new technologies and improving the added value to existing products and services can be daunting.
Three professors from the National Taiwan University College of Electrical Engineering and Computer Science founded the startup company "OmniEyes," basing their core technology on automated AI image detection and analysis and machine learning capabilities to monitor street view footage from dashcams. The technology allows for on-time analysis and street view detection, advancing imaging data, and traffic.
Having accumulated over a decade of experience in their respective fields, OmniEyes CEO and Cofounder Chun-Ting Chou remarked that coming out to found a startup is an advantage with their academic background. Such a company would have a more robust and forward-thinking R&D capability, Chou said.
OmniEyes began as a project under an initiative Ministry of Science and Technology in 2018. Its promising results propelled the team to seek out investors and found the company "OmniEyes." Two years have passed since its inception, OmniEyes now has two mature services built on its core technologies of AI automated imaging detection and machine learning-- MyFleet and CityWatcher, with a third product slated for launch next year.
In recent years, the emergence of competitors like UBER and Food Panda, and changing consumer behavior, such as the "stay-at-home economy," have traditional industries such as taxi services and logistics on edge. Take one of OmniEyes' clients, for example, Taiwan Pelican Express, which employed MyFleet on its vehicle fleet. With the AI imaging capabilities fitted inside the dashcam on the delivery trucks, the equipment would capture the delivery drivers' footage, and MyFleet software would extract the data from the video to determine situations, such as whether the drivers have been driving dangerously or other applications.
OmniEyes CEO and Co-Founder Chun-Ting Chou. (Photo courtesy of OmniEyes)
MyFleet can serve as a consulting basis, Chou said, as vehicle fleets can use the footage to counsel the drivers when dangerous driving occurs. On the other hand, the software offers more precise, accurate fleet management, helping pinpoint potential or existing traffic issues to improve or maintain a company's brand image.
Other applications of the data derived from MyFleet can benefit the drivers as well. Chou said most workers seeking jobs could outline their working experiences on a resume. However, for logistics companies, hiring a new driver could be a gamble, as they do not have an objective assessment of a potential driver's abilities. Through MyFleet's data, Chou said drivers could create their own drivers' resume.
A New Page for Video Footage and the Traditional Industry
How would one turn applications of video information from a passive to a proactive process? The second product under OmniEye's umbrella is CityWatcher, often used conjunctively with MyFleet. Using CityWatcher allows those who have the MyFleet system to employ the fleet's dashcam footage and create a real-time video database, Chou said, considering it one of the better advantages over its competition, Google Street View. Chou pointed out that their images are often one to even two years old due to Google Street View fleet size, leading to slower updates. However, with so many delivery trucks on the road each day throughout Taiwan, Chou said this helps create a video database that provides timely data.
Unlike GPS navigation, CityWatcher can auto-detect and analyze dashcam footage of road conditions. Another application of CityWatcher could pave the way for governments to use the footage data and keep track of public infrastructure maintenance conditions or construction progresses.
Creating such a footage database has a huge potential for consumer applications as well. Chou said they are working on the OMNI APP, built on CityWatcher's foundations and slated for release in 2021. The idea of OMNI APP is to fit CityWatcher into a user's smartphone, turning it into a smarter version of Google Street View. Aside from the usual audio navigation, Chou said they are also working on visual navigation functions, which would point out road signs on the screen to help drivers quickly find indicators to turn.
Easing the Digital Transition
Traditional industries looking to implement digital transition in their business models have an uphill battle ahead. Chou pointed out that costs among the top concerns, as the equipment suitable for newer technologies can be costly. However, more precise management and warding off future competitors with better technology are both attractive factors that can persuade clients quickly enough.
One of the contributing elements that make OmniEyes' job easier is that Taiwan is known for its hardware prowess. They are currently working with several hardware suppliers to test and certify software compatibilities to fulfill clients' needs for smooth hardware and software integration. Chou says they are still looking at improving the process and streamlining it seamlessly as downloading an APP into a smartphone.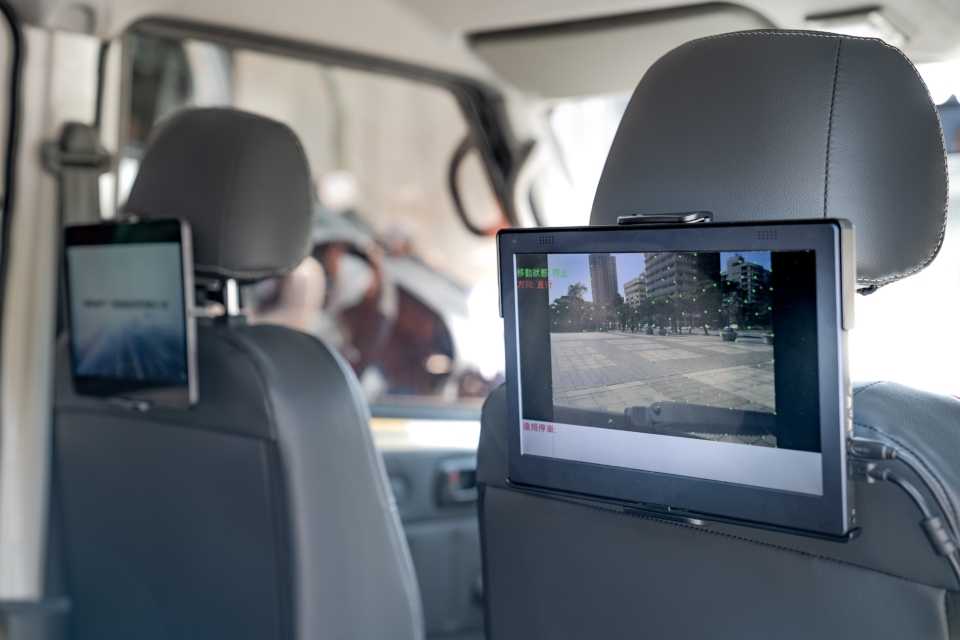 OmniEyes works with domestic brands to incorporate its software with hardware. (Photo courtesy of OmniEyes Facebook Page)