LED NEXT STAGE 2020
2020/01/21 | By
Mar. 3 (Tue.) - 6 (Fri.), 2020 TOKYO BIG SIGHT
LED NEXT STAGE will present a vast array of the newest LED and OLED lighting products that are essential elements of comfortable lighted spaces in offices, shops, and homes. It will also feature the latest devices, parts, materials, control systems, measuring equipment. LED NEXT STAGE offers a perfect opportunity to promote your latest products and technology to influential designers, engineers and buyers.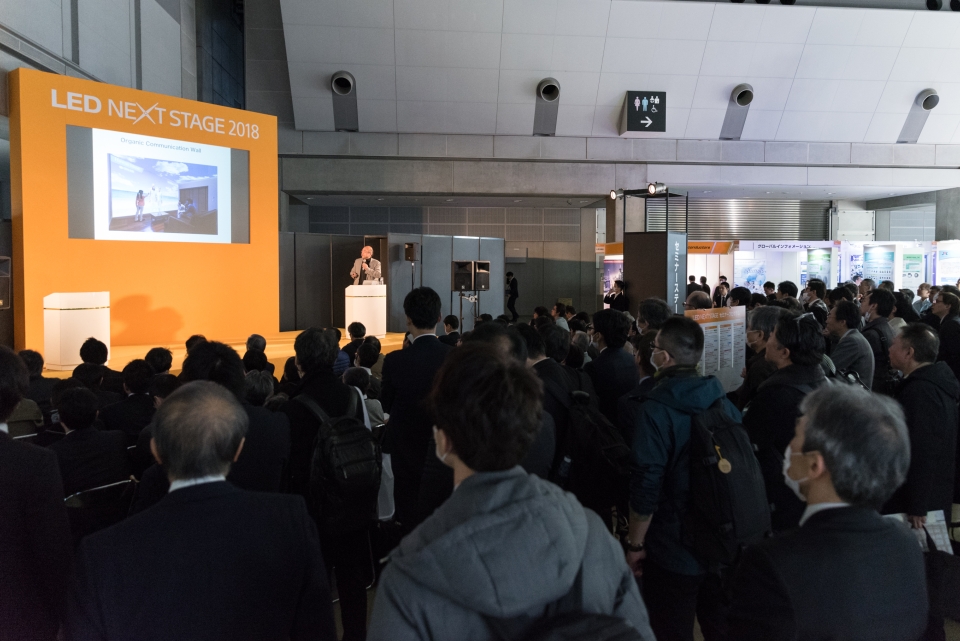 LED NEXT STAGE 2020
Dates
March 3(Tue.)-6(Fri.), 2020
10:00a.m.-5:00p.m.(4:30p.m. on the last day)
Venue
"Tokyo Big Sight" (Tokyo International Exhibition Center) West Hall
Organizers
Japan LED Association, Nikkei Inc.
Exhibition scale
100 companies, 120 booths (expected)
Number of visitors
100,000 people (expected, Total number of JAPAN SHOP, ARCHITECTURE + CONSTRUCTION and LED NEXT STAGE)
Exhibits and zones:
General Lighting Zone
Office lighting, shop lighting, home lighting (interior and exterior), factory lighting, stage and exhibit lighting, street lights, floodlights, dimmers, lighting control systems, LED modules, LED bulbs, straight-tube LED lamps, OLED panels, OLED lighting products, OLED devices, etc.
Device, Parts, and Materials Zone
LED chips, power-supply devices, drivers, lenses, light-guiding plates, diffuser plates, reflective plates, heat-dissipation materials, heat sinks, pastes, wires, fluorescent substances, encapsulating materials, lead frames, LED substrates, glass substrates, film, OLED materials, etc.
Space Production with Lights and Illumination Zone NEW!!
Manufacturers, developers, retailers or leasing companies of lighting, sound, or digital design equipment or staging equipment operators. Digital signage, video walls, projection mappings, sound equipment, image or video processing software, AI/VR services, laser staging equipment, staging equipment for studios, stages, and other large-scale facilities, software and application development, entertainment-related commercial material, and special lighting, etc.
Contact
Overseas Contact Office
Space Media Japan
5-1-2F, Kojimachi, Chiyoda-ku, Tokyo 102-0083 Japan
Tel: +81 3 3512 5670
Fax: +81 3 3512 5680
E-mail: tradefairs2020@smj.co.jp