In response to upgrading Taiwan's hand tools industry and localizing services to the industry chains, China Steel Corporation (CSC), Taiwan Hand Tool Manufacturers' Association (THTMA) , Metal Industries R&D Center (MIRDC), and Corporate Synergy Development Center (CSD) have jointly established the research and testing center for hand tools in Taichung Industrial Park at the opening ceremony on May 31 in Taichung. THTMA Vice Chairman Huang Hsin-te is now serving as the chairperson of the newly opened hand tools research and testing center, regarded as the next person capable of leading the industry to new heights.

Taiwan's hand tools industry is currently ranked the island's second largest sector for exports with over 90% of hand tool products headed overseas, and valued over NTD$100 billion for five consecutive years. Despite the strong appreciation of New Taiwan Dollar, the hand tool industry still saw a growth of 2%, creating an all-time-high record at NTD$122 billion in production value and NTD$115.8 billion in export value.

In recent years, deterred by price competition with neighboring countries and rising protectionism, Taiwan has faced a resistance in multilateral trade negotiations and FTA negotiations. Therefore, it is pivotal for Taiwan's hand tool firms to increase products added value and upgrade industries. Taiwan should take advantage of the current deadlocked trade negotiations between the U.S. and China, and aim to direct business opportunities back to the island and bolster its industries against competitors.

Taichung Mayor Lu Shiow-yen pointed out that the hand tools industry is one of the six leading industries in Taichung with approximately 2000 firms and over 45 thousand workers. It is the largest industry cluster in Taiwan, primarily concentrated in districts like Dali, Taiping, and Wufeng. On the one hand, the hand tools industry is a typical vertical division of work system and on the other, considered a critical, high-valued industry chain under Taiwan's steel industry.

THTMA Chairman Yu Hsiang-chen said Taiwan's first hand tools research and testing center was established thanks to the unwavering efforts from the CSC, MIRDC and CSD. This symbolic milestone has propelled Taiwan's hand tools industry from the position of a follower, to a pioneer in the industry, Yu said, enabling the industry to increase the value of steel from NT$200 to over NT$1000. With the opening of the center, Yu believes the industry will continue to create higher product value. He is optimistic to see the efforts of industry members to surpass production value in 2018 this year.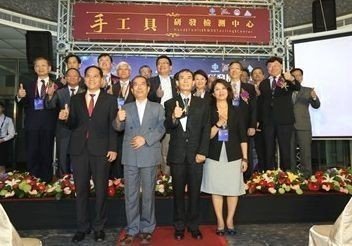 Taiwan`s First Hand Tools Research and Testing Center Opens in Taichung on May 31(photo taken by Sung Chien-sheng)