■Kuo Fang-lin

HPMJ Co., Ltd. focuses on developing high- performance stable lead-acid batteries for vehicle emergency jump-start. The firm has targeted niches like providing emergency, backup batteries for ambulances, beach ATVSs and 24V large- sized emergency vehicles. This year, they have specifically rolled out a reverse polarity protection jumper cable.

When automobile batteries run out of power drivers usually require the help from other vehicles to jump start their cars and head to the nearest repair shop to swap out the dead battery, a HPMJ representative said. Non-professionals are more likely to connect the reverse polarity to the battery, causing more damage or burm the battery and wind up spending more money. HPMJ's reverse polarity protection battery jumper cable allows drivers to avoid snapping on the wrong polarity; when they do however, the mechanism behind the product Will emit beeping sounds to inform the driver. As jump- Starting a battery requires a sharp burst of power, HPMJalso has upgraded the cable with better material that handles higher cranking amps, and is also flexible enough for easy storage. The clamps are patented and CE and FCC certified.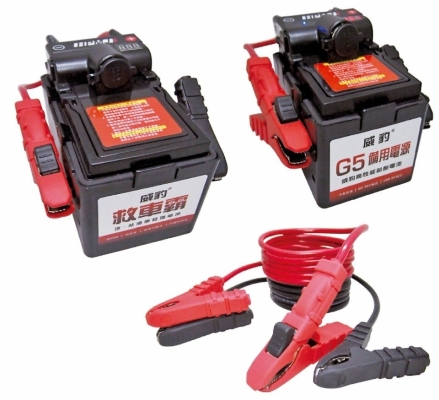 HPMJ continues to develop new products like batteries for battery-storage and emer- gency-use, as wellas lights. (Photo courtesy of HPMJ)
HPMJ has also implemented the reverse polarity protected cables into their G5 and G7 series emergency vehicle battery packs. Whenever a Vehicle battery dies, drivers can use the jump start batteries to start up their vehicles without calling outside help, making this a professional-grade product geared towards assisting non-professionals. These products are currently popular among domestic repair shops and towing services. For more information, contact HPMJ by phone at 886- 4-2693-7677 or their website at www.hpmj.com.tw.