Founded in 1978, Tair Wang Enterprise Co, LTD. is a ISO/TS 16949-approved zinc die-casting manufacturer. Having built its reputation as a professional OEM since its beginnings, Tair Wang has actively expanded its businesses abroad in the past 15 years by persistently providing high-quality products and services for clients.
Currently, Tair Wang's featured products include Harley-Davidson motorcycles, American, Volkswagen and BMW vintage cars and auto parts for trucks. Their efforts have contributed to building a strong reputation among clients locally and abroad.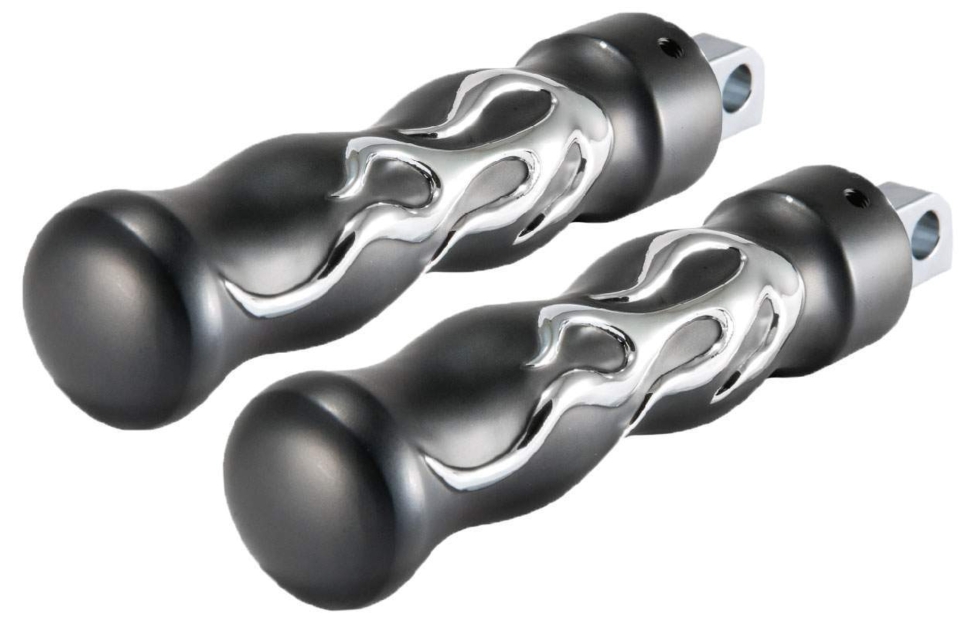 Flame foot peg by Tair Wang. (photo courtesy of Tair Wang Enterprise)
General Manager Lawrence Lee said in such a special market like vintage cars, the outer design of the company's products has moved towards a market for refined details. They enforce stricter standards for surface treatment, details and size, compared to general products.
Being able to satisfy foreign client demands for small amount, but diverse production needs by adhering to the vehicle type and specific traits of each vehicle, are challenging aspects for a company's production line, which tests their flexibility and cooperation abilities. At the same time, they must be able to deliver promptly. These are all aspects that have gained trust among buyers for Tair Wang.
In terms of independent development, the company's focus in the domestic market is on auto parts for motorcycles. Currently, Tair Wang has rolled out newly developed products like LED headlights. They aim to develop products for the overseas market in the future. Tair Wang's foreign market focus is largely on manufacturing aftermarket parts. At the same time, they are developing parts for motorbikes, which they will segregate with the company's existing OEM products.
Tair Wang notes that it has been routinely attending foreign expos in hopes of expanding their exposure to foreign buyers. They are not only actively promoting their products but offering an in-depth approach to understanding their clients' needs and new product development.
Motorcycle license frame by Tair Wang. (photo courtesy of Tair Wang Enterprise)