Taiwan's Two-wheeler Sales Expected to Have Regained Growth Momentum in May, after Plunging in Apr.
2018/06/01 | By Steve Chuang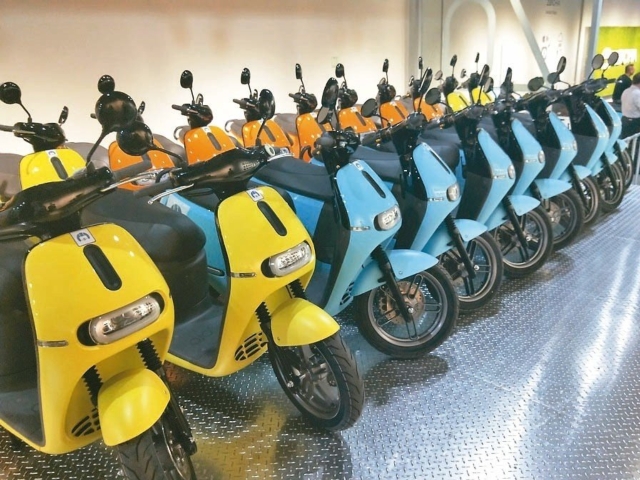 Powered two-wheeler sales in Taiwan suddenly slumped by 27 percent month on month for a couple of reasons, but didn`t disappoint insiders (photo courtesy of UDN.com).
After nearly a half year of continued brisk growth, Taiwan's two-wheeler sales slackened significantly in April, but are expected to have regained growth momentum for a couple of reasons.
Based on the statistics of powered two-wheeler licenses issued by Motor Vehicles Office, a governmental unit under Taiwan's Ministry of Transportation and Communications, sales of new powered two-wheelers decreased by 10 percent year on year, or 27 percent month on month, to only 58,900 units in April.
Eroded by the lackluster sales result in April, the cumulative sales of two-wheeler vehicles for the first four months of this year therefore showed a negative growth of 2.39 percent to some 256,500 units.
The major brands in Taiwan's scooter market, namely KYMCO, Yamaha, Sanyang and PGO, all witnessed their sales slide to some extent this April compared to last April. In contrast, Gogoro, which specializes only in electric scooters, reported continuously growing sales volume of 4,342 units as the only among top five scooter brands, and thereby has boosted its market share to a new high of 7.4 percent.
Industry insiders explain that the sudden market meltdown in April is a result of local scooter manufacturers in the month beginning reducing promotional activity while most of their dealers turned to depleting inventories of used scooters and motorcycles after finishing a sale season to wait for bonus compensations.
Heralding the tightening of vehicular air pollution standards, the announcement by the Taiwanese government of the enforcement of the Sixth Phase of Petrol Vehicle Emission Standards starting on September 1, 2019, is also an influential factor for the market depression in the month, some insiders emphasize. With the new standards urging newer scooter models with improved engine efficiency and exhaust emission, which has triggered a new round of price hikes in the market, most of local consumers with an intention to buy new scooters have been forced to hold back in a wait-and-see attitude as a result.
However, many insiders stress that the sales plunge seen in April is not as disappointing as the figures suggested, partly because it was attributable to a comparatively high base last April.
From another point of view, the insiders note, development of the domestic market for two-wheeler vehicles has plateaued for a long period of time, and the ongoing prosperity, plus with scheduled new product launches by major brands, gives them a good reason to believe in brighter market prospects in the months ahead.
Hopefully, the insiders state, Taiwan's powered two-wheeler market is expected to have turned around in May and then expand month by month in the rest of this year.