Valens Provide Total Solution to LED Auxiliary Driving Lights
2018/03/20 | By Alan Lu | VALENS COMPANY LIMITED
The Taiwan-based Valens Co., Ltd. has been dedicated to the development of LED auxiliary driving lights and well recognized by professionals for its well-honed R&D technologies. With high quality and performance, Valens' products, including truck light, warning light, side light, etc., all have been certified to ECE R65, SAE CLASS 1 and ICAO Type3.
Three decades ago, the firm received a big order for lighting parts of slot machines from its Japanese customers, and successfully extended the parts' service life while lowering the machines' maintenance costs through replacing incandescent bulbs that were widely used as the light source in such parts at that time with LEDs. Unsurprisingly, the innovation won accolades from the customer. Based on the said successful experience and its mature R&D skills for LED-incorporated products, Valens decided to start exploring the market for LED auto lights, Chiang Wen-chiang, chairman of Valens, said.
Chairman Chiang stressed, the firm has continuously researched properties and improved product characteristics, while actively promoting LED lights to its buyers, and has gradually built a solid ground in the market.
As the firm's sales continue to grow, it is not overstated that Valens has become one of the leading LED auto lights manufacturer in the industry.
Chiang is proud particularly of Valens' first auto light product: L03 brake light, of which cumulative sales has exceeded 1 million sets since it was launched several years ago.
Also notable is that the company is the Taiwan's first manufacturer that produces LED third brake lights. About 10 years ago, the firm also worked out side lights, front lights and back lights for ambulances to further broaden its product portfolio. All those achievements are owed to Valens' constant pursuit of innovation and seasoned R&D skills.
To ensure qualitative consistency, the company has integrated its manufacturing resources to the new plant in Yilan, Taiwan. With six production lines in-house, the plant is capable of independently conducting all the manufacturing processes, including molding, plastic injecting and assembling.
With uncompromising attitude for quality inspection, material selection and circuit design, Valens has been one of only a few companies that can provide auto lighting products with five-year guarantee.
Chiang said, with a strong commitment to continuous R&D of products and high quality, Valens has enjoyed a high reputation in domestic and overseas markets. Noteworthily, the firm has commanded a 70-80 percent share of the market for LED truck lights in South Africa.
To professional buyers, the brand "Valens" has become a reliable icon for LED auxiliary driving lights.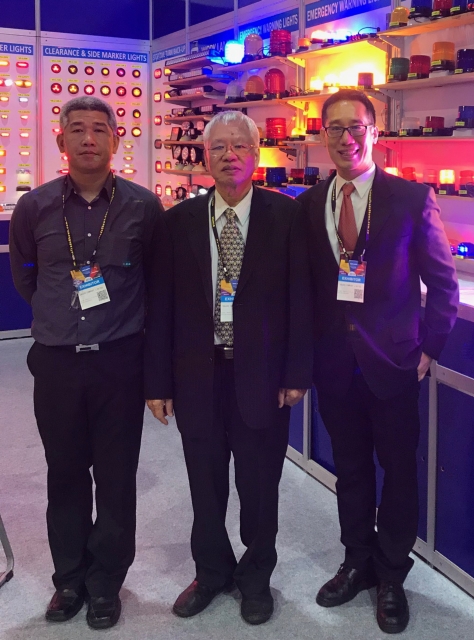 Chiang Wen-chiang (middle), chairman of Valens noted that the firm`s brand has been well recognized by professional for its high quality LED auxiliary driving lights. (photographed by Lo Su-hua)
Valens Co., Ltd
Tel: 886-3-3585881
Fax: 886-3-3585741
Website:http://www.valens.com.tw/
E-mail:euaf@valens.com.tw