Gogoro's Innovative Smart E-scooter Paves Way to European Market at COP21
Picked as 10-must see exhibit by French media

2016/02/19 | By Quincy Liang
Although Taiwan was not invited even as observer at the 21st session of the Conference of the Parties (COP21) in Paris' Stade de France, an event held Dec. 7-8, 2015, Bolstering Success in Paris The Sustainable Innovation Forum (SIF15), the largest business-focused event held during the annual COP, invited 750-plus attendees from 195 countries as the largest number of global stakeholders at any commercially-inclusive side event at COP21, which included Gogoro from Taiwan, the island's most high-profile e-scooter startup producing and promoting its own line of stylish electric scooters..
The invitation to the Taiwanese firm not only eased any sting that pro-Taiwan advocates and government officials may have felt from being sidelined, but also opened the door of opportunity to the Taiwanese e-scooter brand to showcase its innovative product, and more importantly, to tell the world and urban commuter sector that Taiwan has the capacity, will and innovation to be the Tesla of the e-scooter market.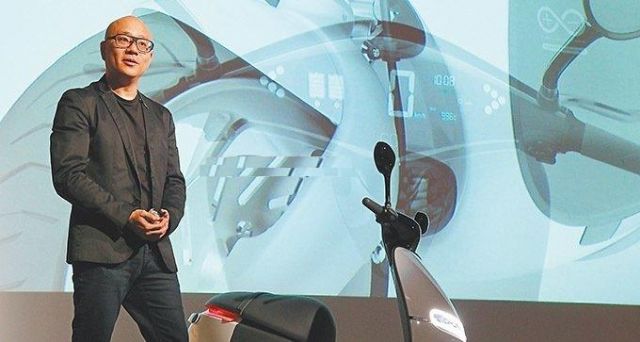 Horace Luke, co-founder and CEO of Gogoro, speaks at the COP21 in Paris on the panel Innovation For Business Advantage. (photo from UDN)
Genesis
Gogoro is an innovative startup and its products brim of boldness to be a trend-setter in the e-scooter segment. The company was founded in late 2012 and headquartered in northern Taiwan's Taoyuan. At the Consumer Electronics Show (CES) held in January 2015 in Las Vegas, Gogoro introduced the Gogoro Smartscooter, the world's first high-performance, battery swappable, smart electric vehicle together with the Gogoro Energy Network, an advanced battery-swapping infrastructure for cities.
The Smartscooter was chosen by French media as one of the 10 must-see exhibits at the COP21 exhibition; while Horace Luke, co-founder and CEO of Gogoro, spoke at the Sustainable Innovation Forum (SIF) at COP21 on the topic Innovation for Business Advantage. He summed up Gogoro's early days and highlighted the importance of the Greater Taipei and Taiwan government's support of the brand it its first market. Horace also discussed the need for the public and private sectors to stand behind Gogoro's motto of "We want to get young people celebrating change."
Luke has ample experience in overseeing product development and corporate strategy from the outset, having been chief innovation officer at HTC, a high-profile smartphone vendor in Taiwan with a chain of retailers on the island, where he was instrumental in leading the company's transformation from a white-label hardware manufacturer to a competitive, innovative mobile phone brand globally. Gogoro is funded by Samuel Lin, chairman of Ruentex Group in Taiwan and recognized as one of Asia's most successful entrepreneurs with diverse businesses including retail, sustainable technology, healthcare, financial services, property development and textiles.
Smartscooter & GoStation
From the drivetrain to the dashboard, according to Gogoro, the Smartscooter insists on using precision, processes and materials typically specified for supercars to offer high-end performance that is both user-friendly and actually accessible to the mass market. To deliver unprecedented power, agility, acceleration and handling, Gogoro re-imagined the entire ride experience and then created a unique powertrain, chassis, suspension and electronics to deliver the highest efficiency, sports car handling, acceleration and extended range possible.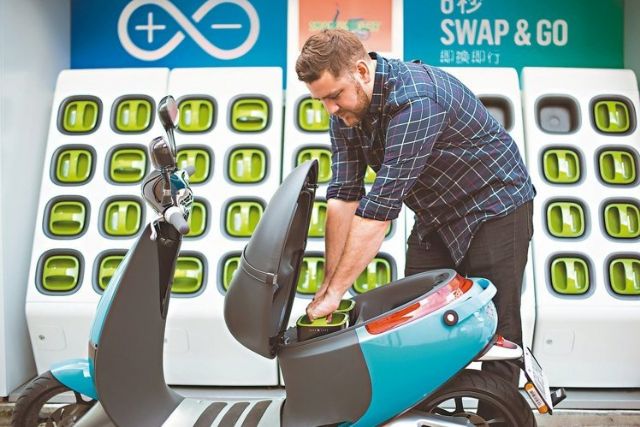 The GoStation battery-swapping station developed by Gogoro looks like an auto teller machine with eight slots for battery packs used also on Teslas. (photo from UDN)
Ultra lightweight and incredibly strong, Gogoro's Aeroframe monocoque chassis is stamped out of racing-grade aluminum that makes it stiffer, stronger, lighter and more responsive. The Smartscooter also delivers an amazingly smooth and responsive ride even over imperfect roads at speed. This ride stability is achieved with Gogoro's high-performance suspension that was inspired by jet-fighter landing gear in the front and multi-link suspension in the back.
The Smartscooter harnesses the information-tech power of 30 onboard sensors, cloud connectivity, and an integrated Gogoro mobile application that enables the scooter to become smarter and more efficient with every ride. The Gogoro iQ System puts the power of a personal computer in the Smartscooter, synchronizing wirelessly across the Smartscooter, Gogoro app, Gogoro Battery, GoStation and Gogoro Energy Network. The app utilizes the Gogoro iQ System to find the closest GoStation, deliver detailed scooter diagnostics, adaptive throttle control, customized regenerative braking, and the ability to track ride data like top speed and range so a rider can analyze riding patterns to optimize power and energy consumption.
The Smartscooter also features "easier refueling." Riders don't need to wait to refuel or recharge the Smartscooter and can swap a depleted battery for a charged one in 6 seconds at any GoStation. Batteries can be reserved in advance, and a subscription-based payment model offers unlimited access to as many charged batteries as needed. Also Smartscooter's hyper-connectivity alerts, if servicing is needed, a rider immediately via the Gogoro mobile app or at the GoStation when swapping batteries.
Reality of Business
Innovation and stylish design to wow consumers as well as gain global recognition often do not necessarily equal market success, as was true for Gogoro as it tried to promote scooters in its first home market of Taiwan. The initial sales effort started July 2015 not to resounding success but mostly tepid reaction among consumers. The Smartscooter, despite its ability to handle rough road conditions, shuddered amid chilly consumer acceptance.
The original price for the Smartscooter, despite attracting attention from global consumers and industry observers, immediately discouraged consumer interest in Taiwan after being announced, said Luke. He added that the first Smartscooter retailed for NT$105,000 (US$3,500) in Taiwan (excluding government subsidies), and in the first month buyers are eligible for a very practical incentive: zero monthly fee for battery swapping (without time limitation), maintenance, and roadside assistance for 2 years. The CEO stressed that with the incentive, owning a Gogoro Smartscooter is more economical than a 125cc internal combustion engine (ICE) scooter, while his company aimed to sell more than 1,000 "pioneers" in the first month.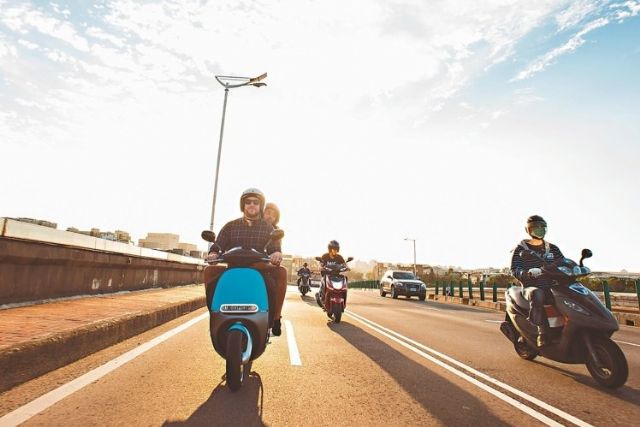 According to Luke, Gogoro's CEO, riding a scooter doesn't have to be a dusty commute but enjoyable urban trip. (photo from UDN)
After three months of consumer disinterest instead of praise, Gogoro was forced to announce a price-cutting policy and launched the Smartscooter Lite version with lower price. Originally puffing with confidence, Luke had to swallow his pride to bow to market realities, despite promoting a truly cutting-edge scooter, that, however, taught a valuable lesson: "people will pay one way another for a good product."
Turning Point  
Statistics compiled by Taiwan's Ministry of Transportation and Communications (MOTC) show that 1,237 e-scooters were licensed in Taiwan in October 2015, compared to 897 units sold in the previous month. A total of 433 units were Gogoro Smartscooters to make the new Gogoro brand the No. 1 vendor, compared to the 412 units sold by China Motor Corp. (CMC had been the top e-scooter vendor in Taiwan for several years by often taking a market share of over 80 percent).  
From August to December, more than 3,200 Smartscooters were licensed in Taiwan, compared to 11,087 units sold overall in the 2015 domestic e-scooter market, making the brand the undisputedly successful newcomer in the e-scooter market on the island.
Luke told a reporter of the Chinese-language economic daily Economic Daily News (EDN), a CENS affiliate, that Taiwan has developed a very solid industrial base thanks to the island's decades-long contract-production to serve global customers, coupled with abundant resources in innovation, making the island the ideal place for Gogoro to start up its business. He explained that if the Smartscooter can win consumer acceptance in Taiwan, it will be a downhill ride to develop sales in other countries. However, he conceded that the initial success achieved by cutting Smartscooter's prices can not be truly deemed real success. How to maintain stable shipments after the production volume increases and duplicate the successful experience in northern Taiwan (Smartscooters' sales are concentrated in the north of the island) across other parts of the island remains a potentially challenging issue. 
Deceptive Casualness 
Wearing a pair of black-framed glasses and often with American-style casual dress, Luke often portrays himself to media as a man with open-mind and gentle demeanor. However, to Gogoro's R&D team, he actually is a demanding boss who pressures staff to live up to his pursuit of perfection.
Luke, in fact, is the creator of the Smartscooter, and is a hands-on CEO who participated in every design detail of the vehicle personally, from vehicle styling, lighting effects, drivetrain, to suspension system. The e-scooter overflows with ideas showing Luke's insistence on innovation, Gogoro's R&D team said, as well as the CEO's proud defiance of copying others, to always develop uniqueness for the brand.
A good example is the adoption of the powerful and ultra-compact G1 motor, which was developed by a new powertrain R&D team recruited by Luke, only because he could not find a suitable motor meeting his high-end specifications. The G1 motor, as a result, redefines what's possible in electric motor design. Every component is precision-engineered to ensure the entire system works smarter, stays cooler and goes further in the most efficient way possible. Another notable example is the monocoque or uni-piece Aeroframe, the ultra lightweight and incredibly strong frame of the Smartscooter. The Aeroframe chassis is stamped out of racing-grade aluminum to achieve extra stiffness, strength, lightweight and responsiveness.
Without even overlooking messy wire harness that compromise the aesthetics of the Smartscooter, Luke insisted on adopting the automotive-grade solution to sort all the wires into one bunch, bundling them with PVC tube filled with silicon glue for hidden installation inside the frame. 
Riding the Smartscooter is the true test of the amazing suspension that delivers incredibly smooth and responsive ride even in tricky, alternating maneuvers at speed. This performance stability comes from Gogoro's high-performance suspension that is inspired by jet-fighter landing gear in the front and multi-link suspension in the back.
When Taiwanese consumers, rivals, and industry experts criticize the "sky-high" pricing for Smartscooter, riders and vendors in overseas markets, especially the West, might easily find many justifications for its upscale price point. Just consider that a German-made, aluminum-framed, foldable bicycle with front and rear disc brakes in Taipei retails for over NT$60,000 (US$1,800), the Smartscooter suddenly seems very affordable and reasonably priced.