Taiwan's Lighting Design Guru Pursues Harmony Between Lighting and Nature
Innovative James Yuan shows the way for a more attractive, more efficient lighting future

2014/09/26 | By Ken Liu
By KEN LIU
In 1985, the Wenshui Community in northern Taiwan's Miaoli County had over 800 residents and served as a transportation and business hub for the townships of Dahu, Shitan, and Tai'an. The population later plunged and by 1999 there were only 86 people left, most of them oldsters and children. One reason for this shrinkage was a new access road that made it easier for the community's young people to migrate to cities in search of jobs.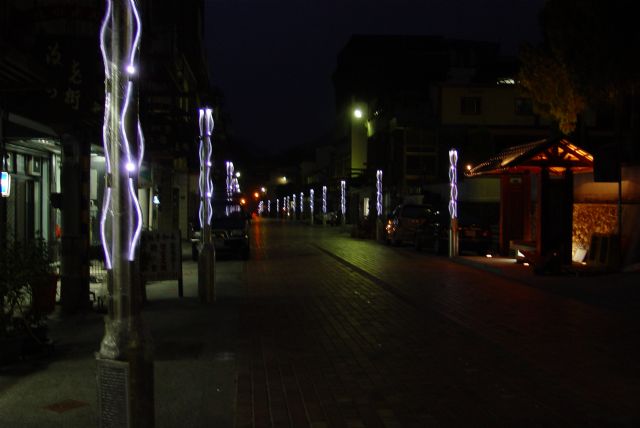 Yuan's lighting design for Wenshuei.
A few years later, some of the migrants started returning, increasing the number of local habitants to around 368 today. This reversal of fortunes has inspired the Japanese TV news channel, NHK, to come and look into the reasons behind it.
"At that time, a senior official in the county government, whose surname was Jien, felt that although it facilitated outmigration the newly built motorway could also bring the community business opportunities," recalls James Yuan, who has been named as Taiwan's most prestigious lighting designer. "He then approached us about coming up with a lighting design project for the community, after its waterways had been dredged and its roads repaved."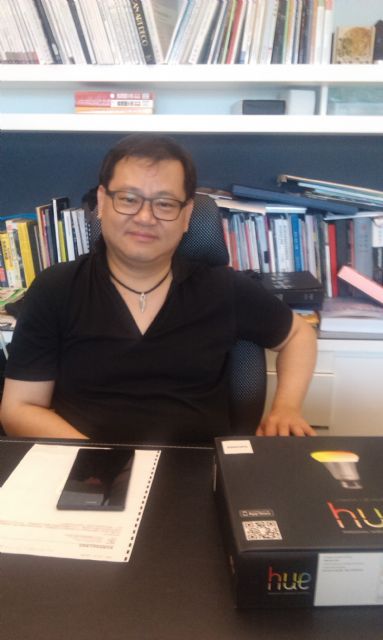 James Yuan
Yuan was among the first graduates of the Chung Yuan Christian University's Department of Interior Design, which was founded in 1983. Since there was no academic program in Taiwan that would allow him to earn a higher degree in lighting design, Yuan went to China and earned his Ph. D. in architectural lighting design from Tsinghua University there. He was Taiwan's first lighting-design Ph. D and the island's first lighting designer to be certified by the Chicago-based International Association of Lighting Designers (IALD). In 2000 he was selected by Taiwan's Interior Magazine as one of the island's top 100 lighting designers.
Yuan suggested replacing all of the mercury streetlights around Wenshui with optical-fiber and LED lights, which he says do not produce so much light pollution as mercury lights and glow likes fireflies. "We found plenty of fireflies in the community when inspecting it for the lighting project," he says. "So we decided to dismantle the mercury lights based on our idea that lighting should be compatible with Mother Nature and conform to the principles of humanity and esthetics. Just imagine--a century ago, residents of this community might clearly see fireflies and stars as they had dinner, thanks to the lack of light pollution."
Natural Elements
Following the improvements that took place in the community, people began coming to camp at Wenshui to watch the fireflies, stars, and the beautiful lighting, inspiring local residents to open stores and make money from them. Many of the young people who had left were encouraged to return by the new business opportunities, and today Wenshui has developed into an important tourist destination in Miaoli. "Why don't we think about how many interesting places like Wenshui we have in Taiwan?" Yuan asks. "Should we not add some natural elements to their lighting and landscape?"
The lighting designer has completed at least 100 projects worldwide, including one for the opening ceremony for the 2008 Beijing Olympics. The Wenshui project may not be as significant as some of his other achievements, but it fully realizes harmony with nature and the value of esthetics and humanity.
Yuan's design for lighting at the Sun Yat-sen Memorial Hall in Taipei
Yuan points out that Thomas Edison tried to bring some elements of nature into the incandescent bulb when he was inventing it. "I think very few people know that Edison spent nearly 20 years carrying out around 20,000 experiments with bamboo filaments in his bulbs before deciding to use tungsten," he comments. "He finally gave up on bamboo because it generated too much carbon when it burned, and quickly blackened the bulb."
After the incandescent bulb was invented, brightness was the top priority pursued by lighting technologists and the result was light pollution. "When looking at the Earth from outer space," Yuan laments, "you will see the dazzling brightness of locations in the developed economies. Then you realize that much of the lighting is not appropriately directed," Yuan says, pointing to a satellite image of the Earth.
"Light pollution has certainly taken a serious toll on Mother Nature," Yuan stresses. "The glass buildings in Toronto, Canada have attracted birds to fly into them because of the reflection caused by nearby outdoor lights. Birds mistake the reflected brightness for the sunrise, and kill themselves banging against the glass. Another case is the lights along the Florida coast, which have been mistaken by sea turtles for stars. The turtles follow the lights and crawl ashore only to end up becoming road kill."
Harmony with Nature
Yuan emphasize that lighting should not be just about brightness, but also about "texture." "Lighting technologists always talk about luminous efficacy," he explains, "whereas lighting designers are occupied with the idea of how to make lighting harmonious with Mother Nature."
Currently, Yuan has design offices in Beijing, Shanghai, Hong Kong, and Japan in addition to his head office in Taiwan, taking care of work in their respective areas.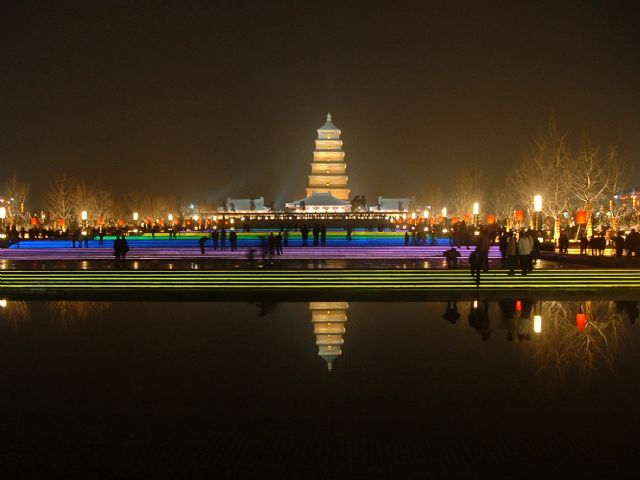 The lighting design for the Wild Goose Pagoda in Xi'an
Yaun's first design project was for the Wild Goose Pagoda in Xi'an, mainland China, in 2002, a project that embodied the combination of business and the 1,000-plus-year-old historical building. "When we were planning that project," he recalls, "we found that most tourists visited the site in the daytime, and figured that beautiful lighting could attract tourists to come at night as well. Lighting sometimes can create sustainable business in addition to presenting the culture, esthetics, and attitudes of a people.".
After deciding on the goals of the project, Yuan suggested removing the neon lights at the site and paying people who lived there RMB50,000 (US$8,196.7 at RMB6.1:US$1) each to relocate. Then, 2,000 stores were built around the site to operate on the build-operate-transfer (BOT) model. Low-pressure sodium lamps were installed to cast the shadows of trees around the site on the ground, making use of the invisibility of the lamps' wavelength to bugs. Color-changing lights were installed for a dancing water show which performs for five minutes every hour. "While waiting for the dancing water show," Yuan says, "tourists want to shop at the stores. Surveys that we conducted reveal that the per-capita GDP generated by the stores soared form US$828 in 2003 to US$18,000 in 2009."
Cultural depth was a primary concern in the design of lighting for the opening ceremony of the 2008 Beijing Olympics. The opening ceremony was named "Chinese Scroll," referring to a 72x36.8-meter scroll with 44,000 LEDs controlled by pre-set software programs. The huge scroll took three minutes to unfold and display gigantic Chinese characters in different styles that evolved from the Qin Dynasty to the modern day, along with Chinese landscape paintings, all expressed by hundreds of people in files and rows on the scroll. The LEDs displayed the silhouettes of the gigantic characters and paintings, presenting the essence of Chinese culture. "In the early stages of the planning," Yuan comments, "some experts suggested presenting these paintings and calligraphic characters by projection. Then I said that since people in traditional Chinese society lived under candles, silhouettes created by backlights could better present the concept."
Enhancing Mood while Saving Electricity
The Qiao'an Community Park next to the Far Eastern Plaza on Dunhua South Road in Taipei City is also equipped with a lighting system designed by Yuan, which features lighting colors that change by the hour until the lights are switched off at 10 o'clock. "Originally," Yuan says, "there were 14 mercury streetlights at the park. To conserve electricity, we suggested dismantling them and installing LED lights under the park chairs instead, along with foggers. The lights are switched off at 10 to remind visitors it is time to go home and sleep. We found the citizens really feel good about the aura created by the changing light color and the fog. Our design has cut the park's electricity bill to only NT$2,000 (US$66.6 at NT$30:US$1) or so from the original NT$20,000 (US$666.6) a month. Also, the fog helps capture particulate matter coming from automobile tailpipes."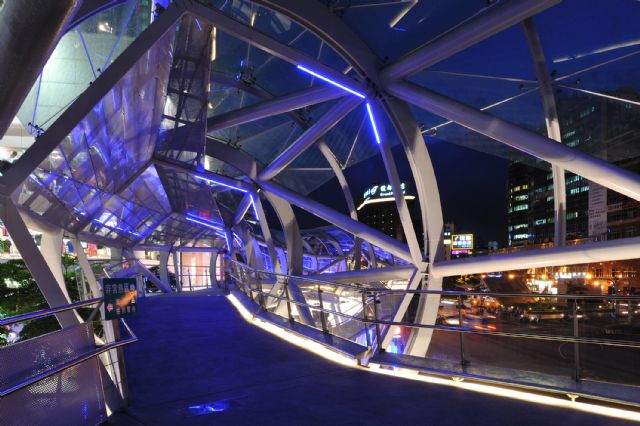 Yuan's lighting design for New Taipei City's Flyover MRT Banqiao Station.
Yuan feels that no one lighting technology can completely replace another, but that different technologies ideally complement each other by making use of the desired wavelengths of each. "For instance," he explains, "superhighways are lined with high-pressure sodium lamps and tunnels are outfitted with low-pressure sodium lamps because their wavelengths are invisible to bugs and they are good at penetrating fog, rain, and darkness, although they have poor color rendition. In all cases, driving safety at night trumps seeing bright scenery from speeding vehicles."
The designer stresses that Taiwan's lighting manufacturers have put too much emphasis on replacing older lighting technologies with newer ones, forcing them to compete with each other in manufacturing technology. "Can they outcompete mainland China's manufacturers in the long run?" he asks. "They should create new applications for existing technologies, because that's the only way they can create value."
Yuan is optimistic about the application of organic light emitting diodes (OLEDs) to lighting products, not just because of their comfortable light quality and plasticity but also their biodegradability. "OLEDs are slim and reflective and they are area light sources," he explains, "which allows lighting designers to apply the light source to a wide range of uses. They are complementary to LEDs, which are noted for producing focused light."
Taiwan's lighting industry and the government-backed Industrial Technology Research Institute (ITRI) formed an OLED lighting alliance this July for the purpose of developing new OLED applications for the island's lighting industry. Yuan was invited to assume the position of director general of the alliance's lighting design committee and provide lighting-fixture makers with advice on what designers need from OLED lighting fixtures.
Yuan pointed out that at the Lighting + Building 2014 fair in Frankfurt, Germany, OLED applications accounted for around 40% of all products on display. "OLEDs can work as lighting fixtures when plugged into wall sockets, and as mirrors when they are unplugged" he says. "In the future, OLEDs will be combined with smartphones and USBs [universal serial buses] and emerge as parts of interactive lighting fixtures or interactive displays. This emerging trend should provide Taiwan's lighting industry with considerable opportunities as long as the island's IT industry can develop a software sector that is as strong as its hardware sector. South Korea has already integrated electronic hardware and software in OLED lighting." (KL, Sep. 2014)