Just Power Builds Handy and Useful Designs into Lighting Fixtures
Environmentally conscious manufacturer focuses on practical designs

2014/09/17 | By Ken Liu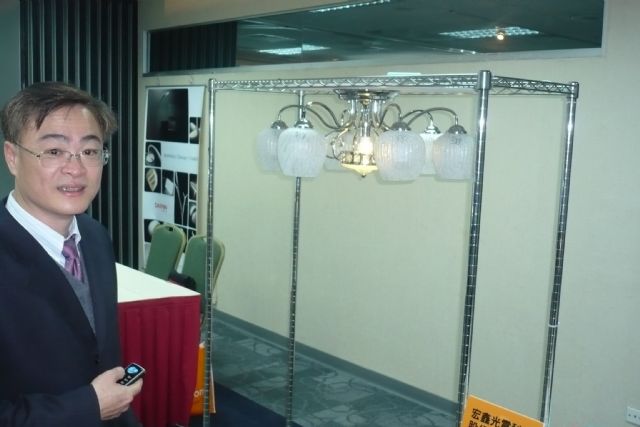 Just Power president Ching Yang
By KEN LIU
From the very first day of Just Power Integrated Technology Inc.'s founding in 2009, the company's president, Ching Yang, has clung to the idea of incorporating only useful and handy designs into the company's LED lighting fixtures, which are all for indoor use.
The firm's initial offering, a light tube dubbed "Anytime," was based on that idea, and it has since introduced a slew of lighting fixtures, including floor lamps, pendants, wall lamps, and desk lamps, that work with the light tube. All of these lighting fixtures have won either a "Golden Pin Design Award" or "Taiwan Excellence Award."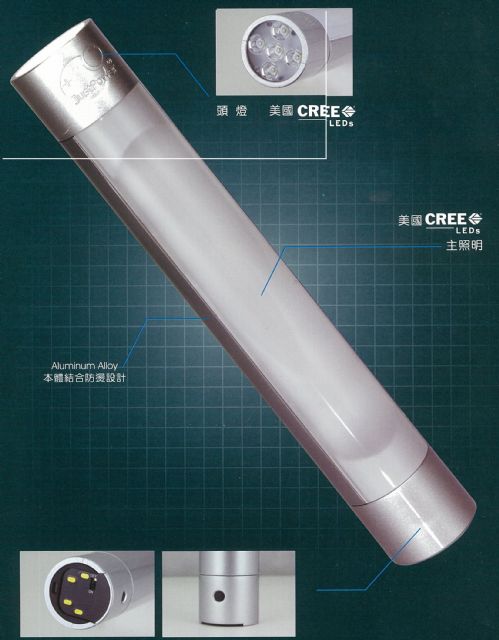 The Anytime light tube
When an Anytime tube is plugged into a dedicated lighting fixture, it works as an everyday light powered from a wall plug. When the electricity fails, the tube can work as an emergency light or flashlight using Japanese-made rechargeable lithium ion batteries.
The tube gives off light at one end using Cree-made LEDs. Its body is covered with a translucent polycarbonate (PC) or acrylonitrile butadiene styrene (ABS) material and outfitted with an aluminum thermal-dissipation module.
As a flashlight, the Anytime can operate continuously for 15 hours in flashing mode, eight hours in half-intensity mode, and four hours in full-intensity mode. As an emergency light, it can operate continuously for eight hours in flashing mode, four hours in half-intensity mode, and two hours in full-intensity mode. It has a total of seven modes.
White Only
The light tube is outfitted with only white LEDs because, in Yang's view, white is the dominant chromaticity for residential lighting. Therefore, the company's lamps can be adjusted in intensity and color temperature, but not chromaticity. The color temperature of the lamps ranges from warm white 2700K to cool white 5500K.
Lighting fixtures that go with Anytime tubes include the Tree Light series of floor lamps, Floating series of pendants, One series of table lamps/floor lamps, One Prime series of floor lamps, Symbol series of wall lamps, and Unilight series of desk lamps.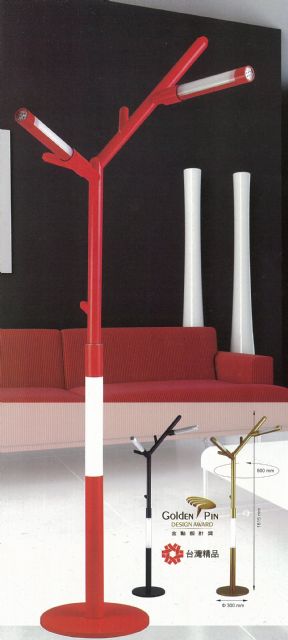 The Tree Light floor lamp
The Tree Light and Prime series have won "Taiwan Excellence Awards" and "Gold Pin Design Awards," while the Floating and One series have been granted "Gold Pin Design Awards." All of these lighting fixtures come with burglar-proof devices which turn them on and off irregularly at night according to pre-set schedule when nobody is home.
At 1.615 meters in height, Tree Light series lamps look like trees with branches that contain sockets for Anytime light tubes. Rated at 20W, these products come in blue, red, and gold colors, and with touch on-off switches and remote controllers.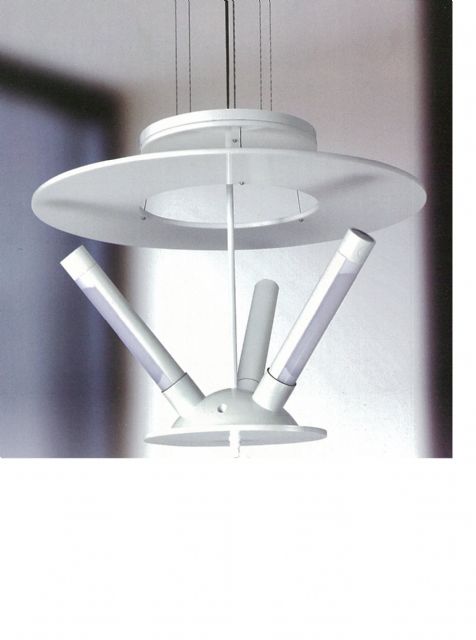 The Floating pendant lamp
Excluding the hanging cables, the Floating pendant lights are 55 centimeters wide and 52 centimeters high. On the lamp base are three Anytime tubes in a slanting position, and above the base are two round plates that serve as shades. These lights are rated at 30W and come in black and white.
The Symbol wall lamp
Symbol wall lamps are 34.5 centimeters long and 14.5 centimeters wide, with fixing pads measuring 8.8 centimeters wide. The series is rated at 10W and comes in brown, purple, black, walnut, and green apple colors.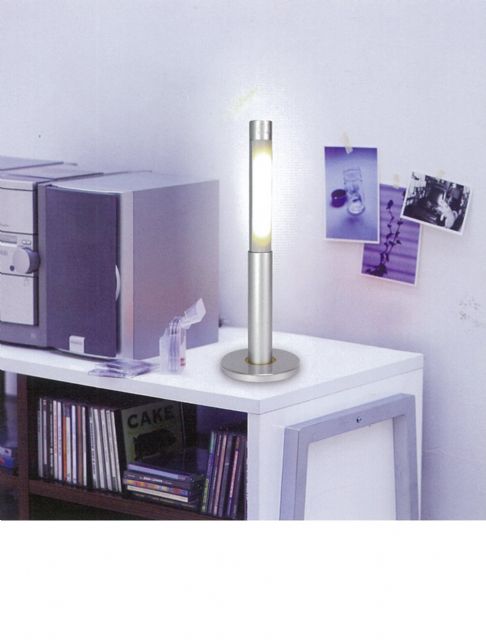 The One Series table/floor lamp
The cylinder-shaped One series table/floor lamps are 44 centimeters in diameter and 14.4 centimeters in height. Rated at 10W, they come in silver grey, white, black, red, and gold colors.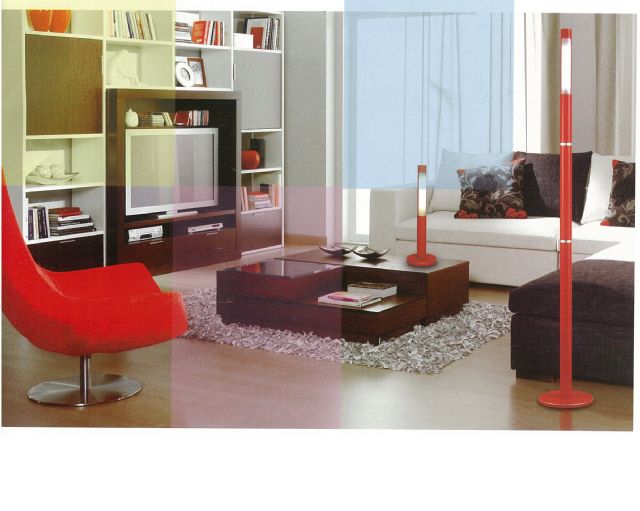 The One Prime floor lamp
One Prime floor lamps are 133.3 centimeters high and 20 centimeters wide, and are rated at 10W. They come in silver grey, white, black, red, and gold.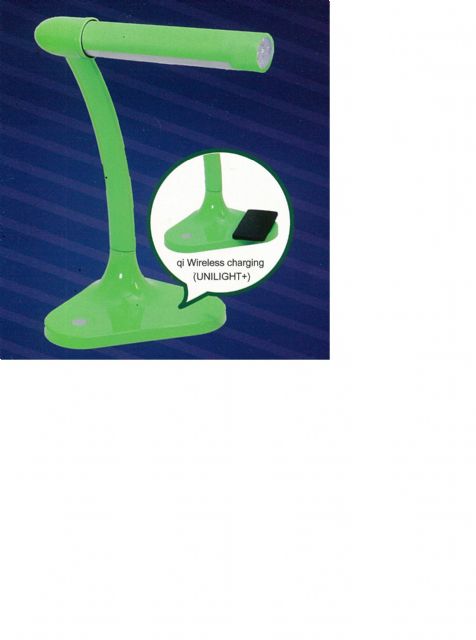 The Unilight desk lamp
The Unlight desk lamp is 20 centimeters long, 20 centimeters wide, 40 centimeters high, and 1.4 kilograms in weight; with a rating of 10W, it generates 800 lux of light. It features a USB charging socket and Qi wireless charging pad; Qi is an interface standard developed by the Wireless Power Consortium for inductive electrical power transfer over distances of up to four centimeters, allowing mobile devices to be recharged wirelessly.
LED Bulbs Too
In addition to lighting fixtures designed for Anytime tubes, Just Power has also released a series of LED light bulbs, ceiling lamps, and parking-garage lighting equipment for the lighting-retrofit market. Like other Anytime lighting fixtures, these lamps are adjustable in intensity and color temperature and are remotely controlled. This year the company has filled out its product lineup with a motion-sensor light tube for parking garages. The light adjusts its intensity anywhere from 20% to 100% automatically, based on the distance between the moving object and the tube.
Although the company's lighting fixtures mostly integrate remote-control functions, the technology involved uses microwaves instead of the increasingly popular apps downloaded onto smart phones. Yang explains: "Lighting is simply lighting. You don't have to make a lamp like a 3C product, because doing that would only complicate the operation of a lamp. How many grandpas and grandmas know how to download control apps onto a smartphone? And how will you control the lamps when your smart phone happens to run out of power?" Yang, an electromechanical science graduate with more than 10 years of experience in the semiconductor industry, insists, "It would not be much of a challenge for my company to develop Internet-based lighting control technology. But developing such a technology is not at all practical for lighting."
Just Power limits itself to white-light lamps, Yang notes, because "From the market perspective, color-changing LED lighting has a much smaller niche than does white-light lighting. White light has remained the dominant lighting chromaticity ever since Thomas Edison invented the light bulb, although color temperature is now adjustable. Market for colorful lighting is not really very significant."
The only design feature of the company's lighting fixtures that can be associated with 3C (computers, communications, consumer electronics) technology is perhaps the Unilight's Qi recharging function. "We integrate this function into the lamp because studies by market consultants indicate that Qi-enabled mobile phones will number an estimated 700 million worldwide by 2018, accounting for around 85% of all wirelessly-rechargeable mobile phones at that time. Adding Qi to desk lamps can deliver great convenience to smart phone users because the recharging place is easy to locate and reach, so they won't forget to remove the phone before leaving home," Yang analyzes.
Yang stresses that the company develops all of the technology used in its lighting fixtures from scratch, including the communication protocol between lighting fixtures and remote controllers, controller drivers, power outage detection technology, and on-off sensing technology. "We pay intense attention to the protection to our intellectual property," Yang comments. "Almost every one of our products is protected by two or three patents. We've won a total of about 50 patents, including some from Germany and the Netherlands."
So far, Just Power has shipped most of its products to Southeast Asia and Japan. "Japan is frequently hit by natural disasters, bolstering its huge demand for emergency lighting," president Yang explains. "Southeast Asia is now strained by power shortage because of booming economic development, and that makes it another promising market for emergency lighting."