Yuhuan Jianghong Machinery Co., Ltd. is a specialized developer and manufacturer of high-quality, durable brake calipers for cars and trucks, also a key member in the automotive braking committee under the China Association of Automobile Manufacturers (CAAM). Headquartered in the Kanmen Science & Technology Industrial Zone of Yuhuan, Zhejiang Province, Jianghong is in the hub of China's automotive parts production.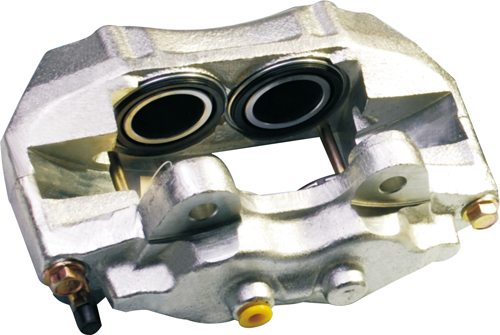 Jianghong is a major supplier of high-quality, precision brake calipers.
The ISO/TS 16949-, ISO 9001:2000-, and QC/T592:1999 (China)-certified Jianghong claims to have ample experience and know-how, having evolved into a leading maker backed by a comprehensive range of production equipment, including computer numeric control (CNC) machining centers, lathes, and drilling machines.
The company also utilizes a full range of top-end testing and inspection instruments, which, coupled with stringent quality-control systems, assures the highest precision and quality. All testing and inspection are done in-house, including high/low-pressure sealing, caliper-piston return, torque and drag, results of which are recorded and can be presented to customers.
The ISO/TS 16949- and ISO 9001:2000-approved company also supplies this quality item.
The firm also has a modern, integrated plant with over 200 skilled workers, including engineers and over 20 technicians, which achieve annual production of about 600,000 sets of brake calipers to make Jianghong a top supplier in China and globally.
Jianghong's products are popular especially in North America, Europe (Germany, Russia, the U.K. etc.), Australia, South Africa, Latin America, and Southeast Asia.
With steady investment in new-product development, Jianghong develops on average 150 new items per year, supplying a range for almost all popular American, European, Japanese, and Korean makes and models, as well as offering the finest before- and after-sales services. (QL)

Samples of Jianghong`s products.
Yuhuan Jianghong Machinery Co., Ltd.
Kanmen Science and Technology Industrial Zone, Zhugang Yuhuan, Zhejiang Province, China
Tel: (86-576) 8991-6288, 8991-6699
Fax: (86-576) 8991-6298
E-Mail: sales@jhbrakes.com
Website: www.jhbrakes.com