Shin Chun Enterprise Co., Ltd., founded in 2003, is a professional manufacturer and exporter of screws in Taiwan. Thanks to its focus on high-end products, the company is strongly supported by customers from around the world, albeit the European sovereign debt crisis.
Shin Chun estimates its sales at NT$600 million for 2011, up 20% year-on-year. The company is currently capable of rolling out five million tons of screws per month. Large production capacity and diversified products have helped the company to tap such critical markets as Europe, the U.S. and Japan.
Shin Chun's production lines are installed with such advanced equipment as one-mold/two-stroke precision cold-forging machines, special-purpose tapping machines, and automated sorting machines, enabling the company to achieve flexible production to meet customers' diversified requirements.
The company has successfully developed low drilling-torque screws named Winer Screws, which boast a perfect design on thread featuring diamond type with jag, rather than traditional round type. This design makes the thread not fully surrounded/contacted by object wood in case of drive-in, so that the friction can become less to reduce drilling-torque.
Besides, the jag also greatly helps to increase the power for cutting wood fiber. Furthermore, since the thread type is changed from round type to diamond type, the space becomes bigger and can stuff more sawdust in case of drive-in. It helps to reduce drilling-torque and the possibility of object wood getting crack.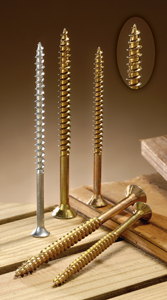 Shin Chun Enterprise Co., Ltd.
No. 7, Lane 1, Jiaxin E. Rd., Gangshan Dist., Kaohsiung City, Taiwan 820
Tel: 886-7-621-5998
Fax: 886-7-621-5997
E-mail: paul@sce.com.tw
Website: www.sce.com.tw