At a conference held in mid-October, specialists from Taiwan's academia, think tanks, trade bodies and manufacturers unanimously urged the government to take immediate measures before the island's light emitting diode (LED) industry sinks into the abyss miring the dynamic random access memory (DRAM) and liquid crystal display (LCD) segments, both of which boasted iconic status.

They suggest the government subsidize LED-lamp usage, promote LED streetlight projects and household consumption of LED lamps, enact national standards for LED lighting, fund R&D of innovative LED technologies, coordinate vertical integration among the island's LED manufacturers, and stop the brain drain from the local industry from deteriorating.

Organized by the National Taiwan University Technology Policy & Industry Development Center (NTUTPIDC) and the Taiwan Electrical and Electronic Manufacturers' Association (TEEMA), the conference invited representatives from think tanks Chunghua Institution for Economic Research (CIER), Industrial Technology Research Institute (ITRI), Taiwan Institute of Economic Research (TIER) and Taiwan Research Institute (TRI), trade organization TEEMA and Chairman Y.F. Yeh of Everlight Electronic Co., Ltd.

CIER chairman C.Y. Liang, TRI president C.Y. Wu, TIER vice president M.S. Kung and director general Y.J. Chan of ITRI's Electrics and Optoelectronics Laboratories say that Taiwan's LED industry is lagging in competition, with South Korea having exceeded Taiwan while China is closing in on from behind.

TRI's Wu says the government should not be fixated on developing renewable energies to replace nuclear power for the former needs thermal power as backup, instead the government should let the cost of generating electricity be truly reflected, stopping Taiwan Power Co. (Taipower) from running on deficit.

Subsidize LEDs
Urging the government to subsidize energy-saving lighting, Wu cites the 80% higher energy-efficiency achieved by LEDs, pointing out that Taiwan can conserve as much as 22.4 billion kilowatt-hour of electricity a year or over half that generated by Taiwan's three nuclear power plants, hence should replace all traditional lamps islandwide with LEDs. He adds that using LED lamps and stopping under-pricing Taiwan's electricity are critical to reducing the island's CO2 emission and energy waste.

To help the island's LED industry, the government should promote investment, patent development, and industry standardization in addition to cooperation with China to tap global markets, says Wu.

CIER's Liang says energy conservation only helps to grow Taiwan's economy and employment but hampers economic development, noting that Taiwan imports 90% of needed fuel while energy imports account for 10% of gross domestic product (GDP). Reducing energy consumption also reduces fuel imports and hence GDP. LED is an energy-saving industry that helps reduce fuel import and boost employment, killing two birds with one stone.

Liang estimates that a carbon tax policy would dampen Taiwan's economy by 0.59% and render 122,000 people jobless, while investments in energy-saving industries will bolster the island's economy by 1.64% and create 340,000 jobs by driving related industries.

Also believing the government is over-emphasizing renewable energy projects, Liang says it is cheaper to save energy than develop renewable ones.
 
TIER's Kung suggests the government increase subsidizing installation of LED streetlights and traffic lights because existing subsidies are much lower than those for solar equipment.

Branding
The government should fund Taiwan's LED-lighting manufacturers to develop brands so that local contract manufacturers of chips and packages can secure steady orders. "Unlike the island's IT (information technology) industry, the island's LED-lighting industry lacks a strong end-product industry to absorb its LED devices, an issue that can be overcome by developing brands to offer chipmakers and packagers steady orders and add value to the local LED industry. But branding requires a strong patent portfolio to compete globally, so the government has to financially support manufacturers' patent projects," says Kung.

Brain drain in the Taiwanese industry is also a serious issue, prompting Kung to urge the government to help local manufacturers cultivate, retain specialists.

With China trying to meet 70% of domestic demand for LED epi wafers with homegrown talent toward the expiration of its 12th Five Year Plan for economic development from 2011 to 2015, the nation has been aggressively poaching Taiwan's specialists, an issue worrying ITRI's Chan, who feels that the Taiwan-China LED industries will soon be competitive rather than complementary.

Taiwanese manufacturers would do well to work with rivals in China, for partnerships in branding are crucial to re-energizing Taiwan's LED industry, whose advantage would be lost in two years in China, says Chan.

Taiwan's LED makers simply cannot afford to lose such advantage for China is touted as the world's biggest LED lighting market, with plans to install two million LED streetlights between 2010 and 2012 in 50 first-tier cities.

Working with China's rivals, integrating among the island's manufacturers, and lowering cost by developing better process technologies will strengthen competitiveness in Taiwan's LED industry, Chan says.

Everlight's Yeh says Taiwan's LED-lighting industry must not lose to South Korea's as it has in the LED backlight segment. Taiwan has the world's strongest LED-lighting industry in terms of technology and patent range. "Our LED lighting industry has no time lag with Osram and Philips in releasing technologies. Without making the most of such advantages, we will lose the chance to be the world's leading LED-lighting supplier," says Yeh.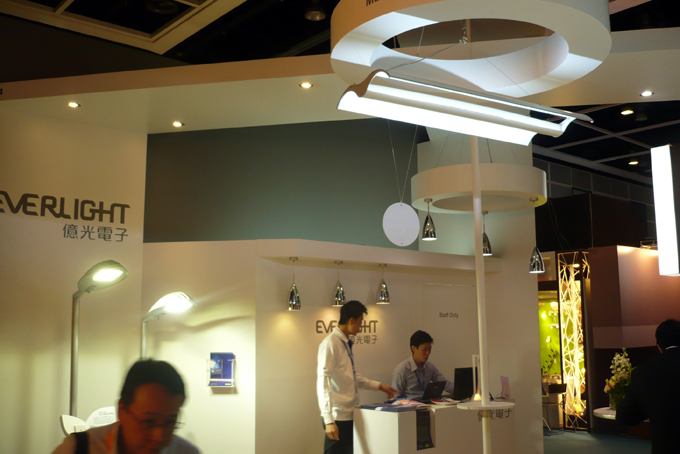 Taiwan's LED lighting industry is fighting a tough battle against S. Korea and China. Pictured is Everlight's booth at a Hong Kong lighting trade fair.
Underselling
Driving home his point by citing a study from Strategies Unlimited, Yeh says South Korea unseated Taiwan in 2009 as the world's No.2 LED supplier, which should be a lesson for the Taiwan government in overlooking South Korean underselling to encroach on market shares held by Taiwan's DRAM and LCD manufacturers, who were counted on to drive the nation's economy.
ITRI's statistics show South Korea snatched up 24.1% of global market for LED packages last year, outstripping Taiwan's 19.1%.
The Taiwan government should emulate China, Japan and South Korea, replacing streetlights and traditional lighting in official buildings and settings with LED counterparts, offering tax incentives to enterprises and retailers to use LED lamps, and subsidizing consumers to buy LED lamps. South Korea, China and Japan all subsidize LED lamp usage, with the former planning to budget as much as US$100 million for such subsidies in the five years to 2015, according to Yeh.
Director general Jerry Ou of the Bureau of Energy under the Ministry of Economic Affairs (MOEA) confirms the adamant governmental support of the island's LED industry: Taiwan plans next year to outlaw manufacturing, import of incandescent bulbs rated above 25W that do not meet official energy efficiency standards.
Taiwan's support of its LED industry has not been mere paying lip service. The island became, after Singapore, another nation to completely replace 696,700 traditional traffic lights this September with LED counterparts, as well as having over the past three years or so replaced around 20,000 mercury streetlights with LEDs.