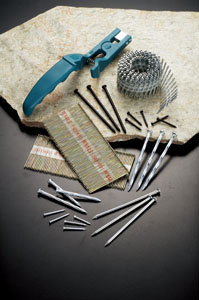 Since its inception in 1987 in Changhua County, central Taiwan, Yeun Chang Hardware Tool Co., Ltd. has been devoted to production of fasteners on an OEM basis.
Yeun Chang has integrated production lines of its brand new factory located in Changhua Coastal Industrial Park in the central county of Changhua since 2009, which turns out 200 metric tons of various fasteners per month.
The company supplies a wide range of fasteners and related tools, including screws, steel nails, angular spiral steel nails, type nails, round steel nails and safety-positioned clamps for screws and nails, with some sold under in-house brand Thumb Brand worldwide.
The ISO9001:2000 certified maker is now a world-notch OEM in the line. Besides, backed by a skillful R&D team and seasoned know-how in the field, the company is also versed in ODM operation, able to satisfy customers with customized fasteners for special purposes.
Yeun Chang Hardware Tool Co., Ltd.
No. 40, Alley 25, Lane 658, Changtsao Rd., Sec. 2, Changhua County, Taiwan
Tel: 886-4-752-6921
Fax: 886-4-791-1000
Email: yeun.chang@ycnail.com
Website: www.ycnail.com.tw