Special Rivets Corp.
Blind rivets, rivet tools etc.

2011/01/07 | By Quincy Liang | SPECIAL RIVETS CORP.
Established in 1983, the ISO 9001:2000-approved Special Rivets Corp. (SRC) has grown into the largest blind rivet manufacturer in Asia. Currently, the company operates one plant in Taiwan and two factories in China, recording a combined annual production capacity of six billion rivets.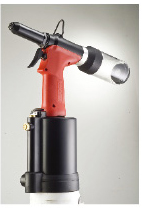 The versatile company also produces high-quality riveting tools, with about two million units shipped per year.
SRC stresses that its R&D team members visit exhibitions worldwide to observe market trends, and receive training courses annually to learn the latest quality assurance procedures. Adopting a complete set of testing and production equipment imported from Japan and Germany, the firm can turn out IFI- and DIN-compliant rivets to customers worldwide.
SRC globally markets its quality products under its own-brand SRC, and the firm also welcomes OEM/ODM orders.
Special Rivets Corp.
No. 699 Fuke Rd., Situn District, Taichung, Taiwan 40764
Tel: 886 4-24623555
Fax: 886 4-24621777
E-mail: srcrivet@ms12.hinet.net
Website: www.globalsources.com/srcrivet.co