Charles Huang, executive director of the Taiwan Transportation Vehicle Manufacturers' Association (TTVMA) and chairman of the Motorcycle Safety and Development Association, has a clear vision for the more vigorous development of the motorcycle industry in Taiwan.

During a recent interview conducted by the Taiwan Motorcycle Guide (TMG) magazine, Huang emphasized that the most important issues facing the local powered two-wheeler (PTW) industry (including all terrain vehicles) at the present time are production volume and brand identification.

Huang is richly experienced in the motorcycle business. In addition to heading up the TTVMA, he is also a board director of one Taiwanese PTW maker and deputy chairman of another.

Volume Is Key

"Boosting the production volume of the local motorcycle industry is our top priority right now," he says, "because a sufficient volume often means cost competitiveness. There has been no big change in Taiwan's PTW production volume during the past 10 years, though the ratio of bigger-engine and higher-end models has been increasing."

The global deployment ambitions of local PTW makers have not been very well realized, with a few exceptions. One exception is the development of operations in Vietnam by the Sanyang Industry Co. (SYM brand) and in China by the Kwang Yang Motor Co. (KYMCO). More successes may be in the offing. "The manufacturing capabilities of local PTW makers and the quality of Taiwan-made PTWs and ATVs are no longer doubted by international buyers," Huang explains, "especially since almost all under-150cc Yamaha and Suzuki scooters with engines of 150cc and under that are sold in Japan, Europe, and the U.S. are now produced in Taiwan."

Taiwan now turns out around 1.6 million PTWs a year, Huang says, about half of which are sold domestically and half exported. Taiwan-made PTWs account for only about 3% of the 50 million PTWs sold in the global market annually. And, Huang laments, "In this big-volume business, smaller players are bound to suffer."

Taiwan, a Scooter Specialist

Taiwan's domestic market is big enough to achieve economy of scale, and most companies in the line benefit from the island's world-beating parts supply chain. However, Huang suggests, "Companies on the island should work together more aggressively to expand their production of scooter products and make Taiwan a global supply base for high-end scooter models." He concedes, though, that Taiwan lacks the expertise to turn out big-displacement products.

The island's ATV sector began developing around 2003 and grew rapidly in the following few years, but in the past two years low-cost rivals from mainland China have captured much of Taiwan's original market share. This is especially true for vehicles with engines under 250cc.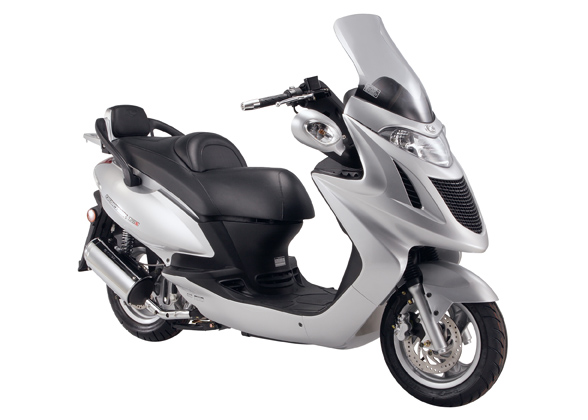 Taiwan is strongly competitive in the production of quality scooters.
Joint Development Needed
To upgrade their global competitiveness, Huang suggests, local vehicle makers should cooperate in joint development.
"All companies in Taiwan should know that group power is the way to further upgrade their international competitiveness," Huang points out, "and they should open their closed minds to the possibility of R&D partnerships. In Japan, there are only four major players and they have been moving jointly toward the position of global leaders. In China there is, in fact, a kind of 'joint development' because a large group of vehicle makers use engines, frames, and other key parts, developed by a small number of suppliers, that are similar or exactly the same."
In Europe, most of the big brands also share similar engines or chasses, but each of them uses its expertise in specific areas to develop products for niche markets.
Huang says that the A-TEAM is a good example of this kind of joint development in the local bicycle industry. The A-TEAM was set up to carry out technology- and quality-upgrading for a group of over 20 leading players in the line. After only three years the alliance almost doubled the average selling prices (ASP) of Taiwan-made high-end bicycles exported to industrially advanced nations; and, more importantly, helped make Taiwan a global production base for high-end bikes.
"Basically, the manufacturing and technical capabilities of PTW/ATV makers in Taiwan are not inferior to those of leading global brands, a fact that is shown by the key parts used in internationally known PTW models that are supplied by Taiwanese companies," Huang points out. "But fragmented efforts by individual companies, the great majority of which are small- or medium-sized enterprises (SMEs), can hardly build the capability in key technologies and advanced manufacturing processes that are urgently needed by local producers if they are to catch up with major foreign competitors and lengthen their distance ahead of low-cost rivals."
MIT Image
Another of Huang's suggestions for the local PTW industry is the collective promotion of the MIT (made in Taiwan) image in the global market so that the island can capture a bigger market share. "An increase of just 1 percentage point in share," he comments, "would mean additional sales of about 500,000 units a year. This means economy of scale, stronger cost competitiveness, and the investment of more R&D resources, among many other things.
"In addition, I suggest that Taiwan companies not give up the mass market to focus exclusively on niche segments with small sales volumes. Though companies in China now prevail in the world's low-price markets, Taiwan's suppliers should use their experience, know-how, strong R&D and innovation capabilities, and other advantages to offer 'budget' models with better quality and styling. Volume is a must for companies in this business--at least, that is my opinion."
Overseas Deployment
While it will be difficult, Huang says, overseas investment should be the next objective for the island's PTW makers.
Taiwanese companies should follow the example of the top four Japanese motorcycle brands, Huang says, because those companies quickly developed overseas markets in the 1960s after being established in the 1950s. The results of this strategy are plain for all to see: the top four players now control the biggest part of the world's motorcycle industry.
To expand its business overseas, a company needs to cultivate talented professionals with a global view and foreign-language fluency.
Finally, Huang urges the Taiwan government to encourage the formation of an R&D alliance in the local PTW industry, and to pour more resources into the development of world-class competitiveness for the island's PTW manufacturers.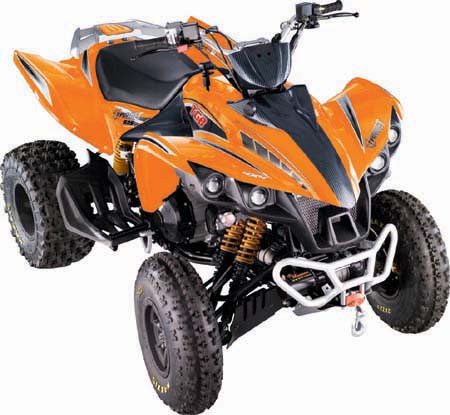 The island`s ATV industry needs more resources for next-stage development.