At the 65th Milan International Bicycle and Motorcycle Show (EICMA 2007), held from November 6-11, 2007 at Fiera Milano, Milan of Italy, almost all major Taiwanese makers of assembled motorcycles, scooters, all terrain vehicles (ATVs), buggies etc. showcased their latest products for international visitors.

The new models on display showed the industry has clear improvements in everything from styling and engine-displacement to finishing quality, functionality, and environment-friendliness, helping Taiwan hone its competitiveness over products from low-cost nations such as mainland China.

More Muscle

One of the major changes in the products displayed by the Taiwanese vehicle manufacturers is the continuous development of bigger-displacement engines. In addition to increasing the value of the vehicles, the bigger-bore engines help Taiwan companies diversify into the production of recreational or utility products such as buggies and ATVs.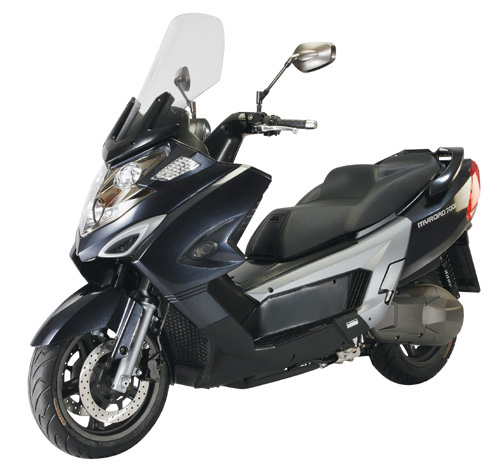 KYMCO`s Myroad 700i high-level touring scooter is the biggest scooter produced in Taiwan.
Kwang Yang Motor Co., Ltd. (KYMCO), the largest powered two-wheeler (PTW) manufacturer in Taiwan, for example, demonstrated its latest 700cc cruise scooter model equipped with a self-developed powertrain system, the most powerful to date on the island. Sanyang Industry Co., Ltd. (SYM) showcased a high-level ATV model powered by a 600cc engine. And Taiwan Golden Bee (TGB) has been rapidly expanding global sales with its high-end 400cc ATVs and new 500cc ATV line.
Just two or three years ago, most Taiwanese PTW and ATV makers were best known for their under-150cc vehicle products, especially scooters and ATVs. But that is changing as more makers shift to bigger engines.
Stylish and Luxurious
The models exhibited at EICMA 2007 also highlighted the strides made by Taiwanese companies in product design.
Eye-catching styling and color schemes and sophisticated details developed in-house or in partnerships with foreign design companies have given Taiwanese PTW models a state-of-the-art appearance that can appeal to buyers around the world.
Motive Power Industry Co. Ltd. (PGO), for example, showcased a 500cc recreational buggy model, the Bug Racer (BR) 500, with a head-turning look jointly designed with French partners.
Among the high-end details and functions on the newer Taiwan PTW models are LED head and tail lamps, keyless security/ignition, electronic dampening, and dual front brake discs, mostly made with parts sourced in Taiwan.
Product Diversification
In addition to improved styling and functionality, many Taiwanese PTW makers are developing more comprehensive product lines. Companies that once focused on scooter production alone have been extending their product lines into ATVs, buggies, and four-wheel side-by-sides (or utility vehicles; UTV); while ATV companies with powerful engines have been eyeing the higher-margin luxury scooter and motorbike businesses.
Most Powerful Scooter From Taiwan
KYMCO unveiled its new product line at EICMA 2007 at a display that was bigger than even many of the international PTW brands. The exhibit showcased the company's R&D achievements and strong ambition to rapidly advance on the global stage.
The company's latest products include a 700cc high-end touring scooter the Myroad 700i, which is the largest-displacement scooter in Taiwan; the 500cc UXV 500 UTV and 400cc MXU 400 ATV; and the New Agility scooter in 50cc, 125cc, and 150cc versions.
Jim Yang, marketing director of KYMCO's overseas sales division, says his company developed the Myroad 700i to add to KYMCO's new high-end product line and upgrade the company's brand image. Yang added that KYMCO's Agility big-wheel scooter family is becoming a known brand among consumers in Europe and his company would continue to push new and bigger-displacement models to further boost the line's popularity.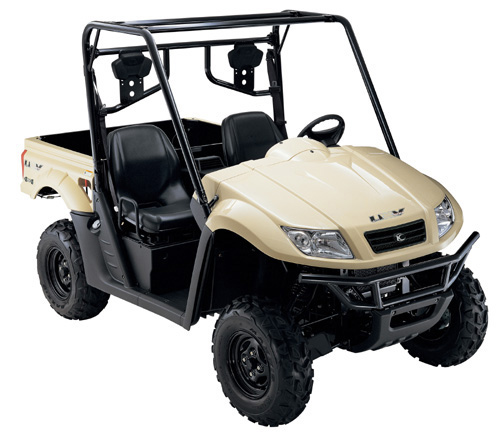 The UXV 500 shows KYMCO`s determination to diversify its product line.
Currently, KYMCO produces over 700,000 PTWs and ATVs from plants in Taiwan and China. The firm develops over 40 new models per year. Yang said that KYMCO would continue to focus more on scooter and ATV products in the future.
World's First Lithium-ion/Lead-acid Battery Electric Scooter
Motive Power Industry Co. Ltd. (PGO) is another Taiwanese PTW brand famous in Europe. The firm unveiled its latest luxury recreational buggy, the BR 500, powered by a 500cc engine currently supplied by Piaggio of Italy, as well as the world's first electric scooter powered simultaneously by lithium-ion/lead-acid batteries.
According to Chen Chih-tsao, PGO's chief engineer, the new lithium-ion battery stores the electricity and supplies the more stable electricity to the traditional lead-acid battery, which outputs higher-voltage power to drive the motor. This design, Chen explained, prolongs the life of lead-acid batteries by preventing frequent deep discharges and also greatly reduces the weight of the vehicle. On PGO's new dual-type battery electric scooter, the lithium-ion battery pack is portable. It weighs only 2.5kg and up extras can be stored in the luggage compartment for recharge at home.
Eddie Wang, PGO's CEO, pointed out that the BR 500 is a high-end recreational buggy that comes in both on-road and off-road versions. The company designed the product with a French partner.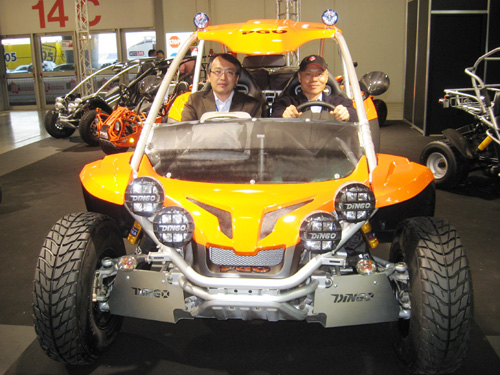 PGO CEO Eddie Wang and chief engineer Chen Chih-tsao sit on the BR 500 high-end recreational buggy.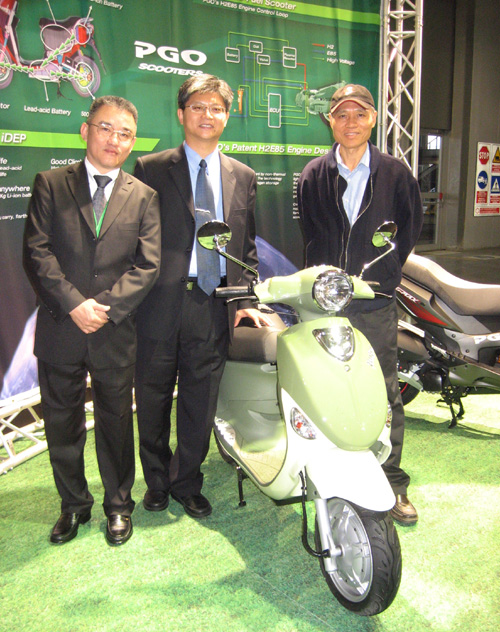 PGO unveiled the world`s first lithium-ion/lead-acid battery electric scooter.
Bigger ATVs & Scooters
Taiwan Golden Bee (TGB), Taiwan's largest supplier of continuous variable transmission (CVT) systems and a rapidly-rising PTW maker, premiered its 250cc cruise scooter, the Xmotion, as well as a 500cc utility ATV model at the show.
George Lin, president of TGB, claimed that the new 500cc utility ATV is loaded with top-end equipment, including independent rear suspension for better road fitting, high-level differential lock functions, and alloy wheel rims. The 500cc engine was upgraded by TGB from a high-efficiency powertrain jointly developed with Moto Morini of Italy and produced in Taiwan.
TGB president George Lin and his company`s latest 500cc utility ATV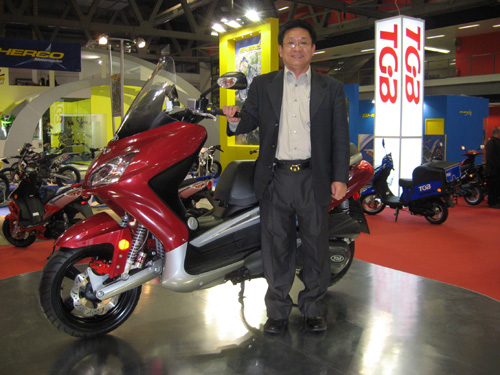 The company`s new cruise scooter, the Xmotion 250
The Xmotion is TBG's most powerful scooter. It has a highly integrated styling design, from nose to tail, and features such high-end touches as automobile-grade headlamps and swing-arm front suspension. According to Lin, TGB will introduce 400cc and 500cc versions of the model.
Since entering mass production in early 2006, TGB's 400cc ATVs have quickly gained a solid foothold in Europe. Especially in France, the largest ATV market in the continent, TGB-brand ATVs have been among the best-selling models in the 400cc to 500cc segment for a long period.
Practical and Powerful
In addition to its wide range of PTW products, Sanyang Industry Co., Ltd. (SYM) demonstrated several new models at this year's event, including the XS 125cc retro-fashion motorcycle, Symply city scooter, Citycom.300 luxury scooter, QuadRaider 600cc ATV, and the eye-catching electric Media Scooter.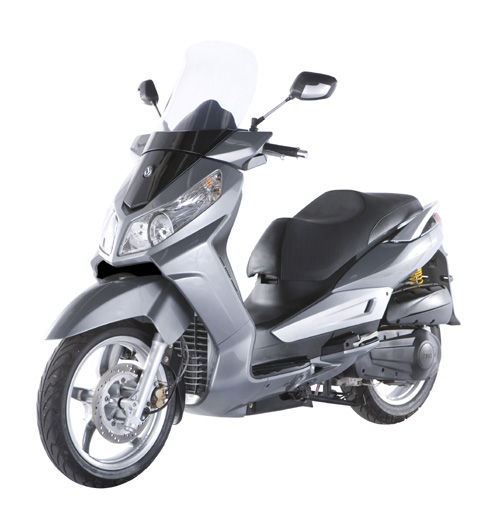 The SYM Citycom.300.
The Symply is a compact city-scooter with reduced chrome and painted exterior parts to avoid exterior scratching and outdoor parking. The Citycom.300 is a new high-end scooter designed with 16-inch high wheels to improve riding comfort on city roads.
The QuadRaider 600 is the most powerful ATV produced by SYM. The new model is ideal for both on- and off-road riding, with outstanding carrying capability and the ability to overcome bad road conditions. The Media Scooter, an innovative electric scooter jointly developed by SYM and MIT Media Lab, is a technological achievement that makes a strong creative statement as well.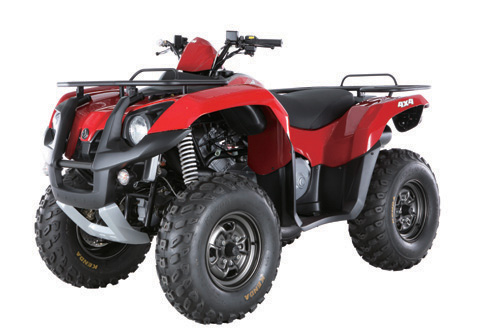 SYM`s most-powerful ATV, the QuadRider 600.
700cc Utility ATV
Dinli Metal Industrial Co. premiered a 700cc four-wheel drive (4WD) utility ATV prototype, the "702," the company's most powerful ever.
Company chairman T.Y. Lu claimed that the brand-new ATV is an epoch-making model due to its outstanding horsepower performance, stylish design, and a cost/performance ratio that rivals will have a tough time matching. The company developed the 700cc ATV engine in-house.
Dinli also unveiled its latest R&D achievement--a magnesium-lithium alloy that provides a great reduction in weight and improvement in strength compared with aluminum alloy. Lu announced that his company would try to use the material in its top-end ATVs in the future.
Lu also claimed that with big-displacement engines his company might diversify its product lines into big-bore motorcycles or other multi-wheel vehicles in the near future.
Dinli chairman T.Y. Lu at his company`s global premier of the 700cc utility ATV, the most powerful model of its type currently made in Taiwan
World's First 4x4/6x6 ATV
Her Chee Industrial Co., Ltd. (Adly) showcased several innovative products, showing the firm's strong technical development and styling-design capabilities.
One is a 4x4/6x6 utility ATV model. The ATV has a shaft-drive 320cc high-level utility model with a high/low gear (high-speed/high-torque) and a sophisticatedly designed trailer with differential lock and hydraulic cargo bed. When connected with an extended drive shaft from the ATV to the rear cargo trailer, the vehicle turns into a 6x6 versatile utility vehicle suited for transporting items in such places as farms and construction sites.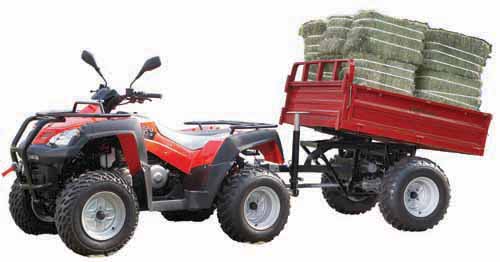 Her Chee`s innovative 4x4/ 6x6 ATV and trailer with dumping bed
Chen Yu-yu, sales director of Her Chee, said that her company is developing a new version of the front ATV with PTO shaft, which can be extended to drive external generators, water pumps, and construction machines to further extend the application range of the utility ATV.
Her Chee also demonstrated a very fancy mini-car model powered by a 320cc engine, a 500cc sport ATV model, and other quality products.
Cube UTV
Aeon Motor Co., Ltd., a contract supplier to major global ATV brand Polaris, introduced its Cube UTV in 313cc 4WD and 280cc 2WD versions at the show. The former is equipped with a complete four-wheel drive transmission and rear independent suspension system designed to provide traction control under various driving and load conditions. The rear dumping box, with safety lock, has a maximum load of 200kg.
Allen Chung, general manager of Aeon, claimed that his company entered the UTV business with extensive experience and know-how in the ATV market. With its 40-person R&D team, Aeon Motor can help customers design almost any kind of product, he says. The company is also actively developing big-displacement engines to strengthen competitiveness and extend its product lines.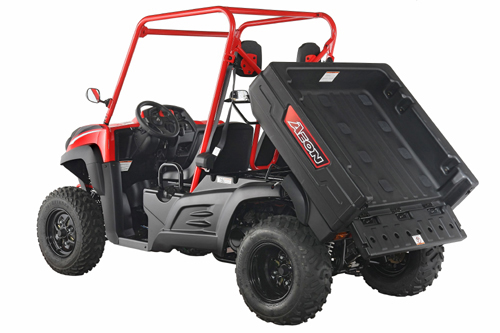 Aeon`s new Cube UTV
ATVs With Automotive Technology
Advanced Power Investment Co., Ltd. (CECTEK), the leading automobile and powersports engine developer and manufacturer in Taiwan, has been diversifying into powersports engines, complete ATV and other multi-wheel vehicle products.
The firm's on-road ATV with state-of-the-art styling similar to a luxury car, attracted close attention at the show. According to Cozy Chang, manager of CECTEK's product development department, the beautiful model has already won orders from European customers.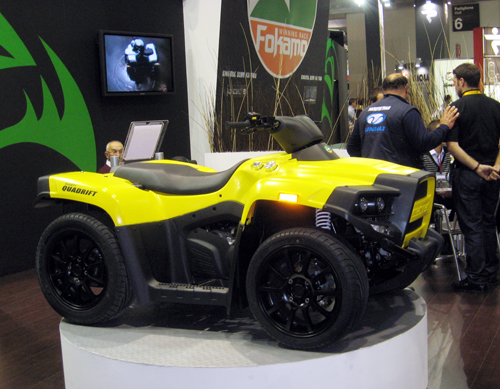 CECTEK`s state-of-the-art on-road ATV is powered by the company`s own 500cc engine.
Chang claims that his company adopted the most advanced automobile engine design concepts to develop the 500cc engine. The engine has an electronic fuel-injection (EFI) system, high-torque, and a low rotation per minute (RPM) powertrain with integrated continuous variable transmission (CVT) system in one housing. The company also plans to continue developing powersports engines with displacements ranging from 800cc to 1,000cc for commercialization some time in 2009.